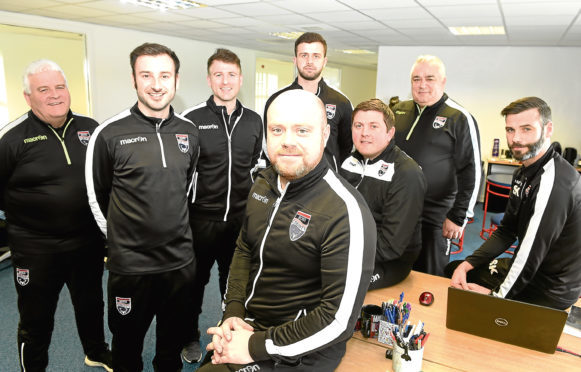 Ross County's academy director Steven Ferguson is confident his new team assembled for the Scottish FA's Project Brave can create a clearer pathway for youngsters to break into Owen Coyle's first team.
The Staggies were given a place within the second-tier progressive category but have recently restructured their youth set-up, with Ferguson joined by seven full-time academy staff in order to meet the criteria required for elite status.
Ferguson, a former captain and assistant manager of the Dingwall club, has overseen the reshaping of County's academy for players between the ages of eight and 18 with a view to enhancing their eventual first-team prospects.
The 40-year-old knows the success of the project will be measured on whether more players can follow the lead of young winger Davis Keillor-Dunn, who has recently become a mainstay in Coyle's side after helping Stuart Kettlewell's under-20s side win the Development League last season.
Ferguson said: "This means nothing if we don't get kids through the system. We have a duty of care to kids in our area to give them the best chance to make it to our first team.
"There are never any guarantees – we all get that. We all know the pressures first team managers are under to win games.
"We started this process when there was a different manager in charge, this was all in the pipeline before the manager and Sandy Stewart came in.
"The manager has come into the club and almost inherits this, but we appreciate he has to look after his bit first.
"He has encouraged me to keep doing what I'm doing and he sees what we've managed to achieve in a relatively short space of time.
"I hope we can start by getting one in the first team, playing regularly and being recognised for the ability he has got.
"I know how it works but opportunities is the key to the whole thing. Davis Keillor-Dunn was given an opportunity recently and grabbed it with two hands.
"I believe the first team has benefitted from that, but the group he came out of now maybe have one eye on that which can push them on a bit further.
"It's a chain of events and it's very difficult to break through, but it's not impossible."
As part of the restructure County are increasing coaching hours for young players across the region, as far afield as the Western Isles and Caithness.
Ferguson insists the rurarilty of the area should not be seen as a disadvantage, as he strives to ensure children from the Highlands are afforded the same opportunity as elsewhere, adding: "We've put something in place where we can offer kids a 10-year specialist training programme.
"This is our starting point, everything in youth development is long-term. We are not going to get an immediate whack.
"I'm under no illusions, it's a difficult task. But we feel the young players in our system and our area deserve the same opportunities as kids will get in the central belt.
"We have to look at it differently – we can't be like a central belt club and we don't want to be. We are never going to be away from this area and, our kids are never not going to have to travel.
"The Scottish FA have chosen not to have a performance school up here, so we have to come up with something for players to get the 12-hour contact time hit that performance school players get every week.
"We will be looking at day release for kids to continue their education, linking in with schools we've already got good relationships with."
Ferguson says the recruitment of full-time academy staff was entirely necessary for his plans to progress, and he added: "I came back to the youths three years ago. I knew where I wanted to go, and that if we wanted to be in a position to be part of Project Brave we had to move on a real distance from where we were.
"I'm delighted with the group of guys we've managed to get in. Everybody has got a really strong link to the club.
"They were all in my system – whether they were here because they have an affection for the club, or whether they gave up their time as a volunteer for me.
"We have always had brilliant volunteers, a fantastic group of loyal and educated coaches that give us a huge amount of hours, but these guys have their own jobs.
"You can't give kids the contact team they need with volunteers so our plan is to get the guys in and make it their job, and make us accountable.
"If we have a talented player we need to make sure we give him everything he needs. We will have our kids in a position to take our opportunity better with the structure we've got now, than they would have had with the structure we had previously."