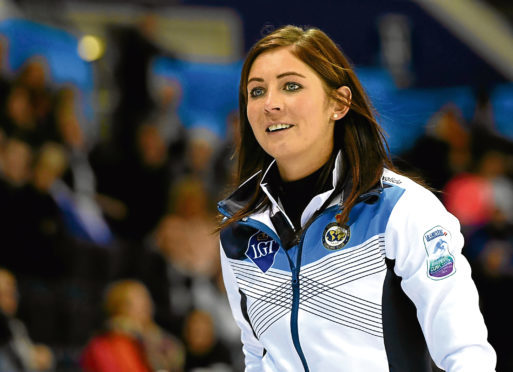 The game faces are now well and truly on for Eve Muirhead and her British rink after they started their bid for Olympic gold with a comprehensive opening win in PyeongChang.
Team Muirhead needed just seven ends to secure victory against the neutral athletes from Russia, who shook hands with the scoreboard reading 10-3.
There was no inch given by Muirhead who displayed her usual ice cool steeliness to marshal her team and ensure there would be no slip ups.
"We've enjoyed our time around the Olympic village and doing fun things like getting our nails done," said Muirhead.
"But once that alarm went off this morning, what we do great is we knew it was competition day, we knew we had a routine and we had to get our head down in business mode.
"To get off to a strong start like that at an Olympic Games is fantastic. For us, that stamps our authority down that Team GB are here and we are playing well.
"We've got a long way to go. We've got another eight round robin games and we're going to have to stay focused."
The 27-year-old and her rink are chasing an upgrade on the bronze won in Sochi four years ago and come into the Game as the reigning European champions and world bronze medallists.
Tougher tests will come – China and Japan both also registered big opening wins while Olympic champions Canada are yet to play – and improvements will be expected but so far so good for the girls.
"They have done everything they needed to get to this point and now it's about producing it on the ice," added coach Glenn Howard.
"It was a great start. Obviously you want to get out of the blocks with a win and that's what I saw. There is so much experience with this team at a very young age and that is huge coming into an Olympics.
"There is nothing that is going to happen to them that they are not going to expect. That goes a long way in this competition."