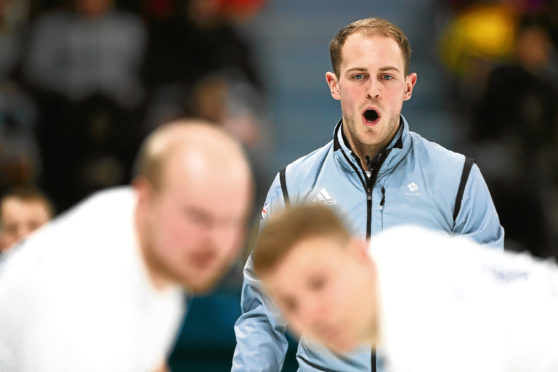 Great Britain men's skip Kyle Smith vowed to learn lessons in defeat after his curling rink finished with one win and one defeat from their opening day of competition in PyeongChang.
Making their Olympic debuts in South Korea, they could not have asked for a better start as they defeated Switzerland 6-5 after an extra end in the morning session.
They returned to the ice in the evening to take on reigning Olympic champions Canada and, while starting slowly, rallied to steal a point in the sixth to bring the scores back to 4-3.
However the experience of the Canadians showed and they managed to see the game out to win 6-4 to leave Britain fifth in the early round robin standings.
Smith said: "It's disappointing to have our first loss of the tournament. We didn't start very well and we're playing one of the best teams in the world defending a lead so it was pleasing how we came back and still had a chance in the end to win the game.
"We played a really good sixth end and we managed to create a steal which narrowed the gap a little bit. Then we got the force in end seven and it was just a pity we couldn't covert our two with the hammer in the eighth to tie the game up. They ran us out of stones in the end.
"There's just a few lessons for us to learn about different bits of the sheet and how we can throw the rock and that's something we will discuss with our coach and bring that into the next game.
"It's definitely a great to start the Olympics, it feels like we've been waiting forever for it to come around and we've got something here we can build on for the rest of the week."
With a whole week of round robin matches still to go, there will be no panicking about the British rinks. A single game against Japan comes today before they take on Sweden on Friday, bronze medallists in Sochi four years ago.
And coach Viktor Kjell was also keen to stress that the opening day was to be viewed as a learning experience rather than anything else.
"We played against a good team and we had a lot of chances but unfortunately we just didn't execute on the chances we had," he said.
"You need to do that against a great team like Canada so it's a little bit disappointing now but we'll bounce back.
"We have to play nine game so a loss here is not the best feeling right now, but we'll bounce back after this."