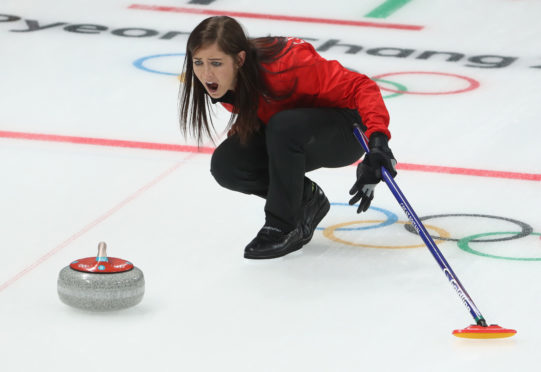 Scottish skip Eve Muirhead kept Britain's Olympic curling glory bid on track yesterday, maintaining a cool head under pressure to restore some momentum.
Muirhead lost out on the final stone of her match with Nina Roth's American rink but rebounded to beat China's Betty Wang with the last delivery on the extra end.
Yesterday's matches certainly gave a glimpse of what is to come, even if they lacked top quality.
Muirhead's rink – Vicki Adams, Lauren Gray and Anna Sloan – have lost just one of their first three games and will enjoy a rest day today to reset their focus.
Muirhead said: "If you'd said at the start of the week I'd have won two and lost one after three games then I would have taken that.
"It takes a time to get used to the conditions and it's tricky out there. We've adapted quickly and it showed during the end result.
"It came down to a last stone against the US and we lost out, but that's the job of a skip to nail those crucial shots."
"The girls played great and we showed a lot of guts and determination.
"Our heads could have gone down after the US game but we stayed positive. Experience helps and we are the two most experienced teams here. Betty got the bronze in Vancouver and we got it the Games after."
Muirhead's rink plays Denmark and Korea tomorrow, the latter causing the biggest upset of the tournament so far with a win over world champions Canada played in front of a crowd that brought new meaning to the "roaring game".
"The Korean team is strong and we've not beaten them yet," added Muirhead. "I love the atmosphere you find out there.
"Sometimes you can't hear yourselves think. I can't wait to play Korea."
Britain's Canadian coach Glenn Howard has gelled quickly with Muirhead since they began their partnership and has been impressed by the rink's resilience. He has also started to use words picked up from the team.
The current favourite is "dodgy".
Howard said: "I was proud of the girls. They weren't at their best for five or six ends of the China match and it was a little scrappy. They hung in there and then played brilliantly at the end and that shows the sign of a good team.
"This team doesn't get upset. They didn't have a great game against the US but they turned it around."
Meanwhile, Muirhead's brother, Thomas, who plays in Britain's men's curling team, insists he's not on a revenge mission ahead of a crunch clash with Sweden.
Fellow Scot Kyle Smith's rink kept their nerve to secure a 6-5 final-stone victory over Japan yesterday, meaning a narrow loss to defending champions Canada remains their only defeat.
But next up us Niklas Edin's unbeaten Swedish, who swatted aside Denmark and hosts Korea in their opening two matches in Pyeongchang.
And that's a rematch of the recent European championship final in St Gallen, in which Smith's rink was well beaten 10-5.
Thomas Muirhead said: "That loss will spur us on.
"We'd like a bit of revenge but it's not a special game because of what happened at the Europeans, it's just another game.
"We've beaten them before and if we put it together then we won't be far away again."
Muirhead insists the rink are also starting to find their rhythm but admitted some harsh words were exchanged following the defeat by Canada.
He added: "The Canada defeat was a bit of a wake-up call and we aren't going to get away with that performance.
"We had to improve and we definitely did against Japan. We felt a lot more in control out there.
"We learned a lot from the first two games about the conditions."
l Watch the British rink in action on the Eurosport Player at 11am today.
Don't miss a moment of the Olympic Winter Games on Eurosport and Eurosport Player. Go to www.eurosport.co.uk