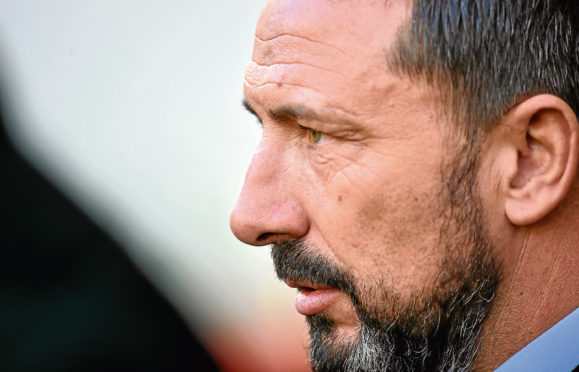 The Aberdeen players owe their manager and their fans a performance when Celtic visit on Sunday.
I hear yesterday's scheduled day off was cancelled at Pittodrie as the Dons players were called in following their 2-0 defeat at Hibernian.
I doubt the riot act was read as that's not really Derek McInnes' style. He and his players will have analysed what went wrong at Hibs and focused on how to ensure there is no repeat.
Saturday was clearly very frustrating for Derek. Matches against Hibs at Easter Road have become hard for any team. Derek was frank and honest with his opinion on how poorly his side played.
He could have tried to gloss over it but he didn't. He opted for the honest and forthright approach, clearly with Sunday's big game in mind.
The attitude has to be bang-on this weekend and the Aberdeen players need to make amends.
The Dons have failed to lay a glove on their heavyweight rivals this season and it is a statistic which has to change.
Aberdeen will have an even tougher task without their suspended captain Graeme Shinnie.
His energy and attitude is a big part of the team and the Dons struggled without him at Hibs.
Managers need their big players for big games and Derek has a job on his hands in figuring out how to restore the intensity Shinnie brings.
Celtic will be at Pittodrie after a long trip to Russia and back and if Aberdeen can make up for their lapse at Easter Road then we should be in for a cracking end to the season.
Rangers look a super team going forward but their defending was below average at Hamilton. It was Sunday league stuff at times. It has made for an exciting season. Teams beating each other means there is an air of unpredictability about the title.
Hibs and Rangers have shown themselves capable of taking points off Celtic. Aberdeen have to join that select group and beat the Hoops.
A win would reduce the deficit to six points and there is the small matter of an Old Firm clash looming.
Nothing has been settled yet but Celtic are wobbling a bit in a way we didn't see last season.
When I owned a bar an old punter in my pub told me he had some advice.
He said: "Alex, be the first to say nothing. You'll only get in trouble."
His words came to mind when I heard Brendan Rodgers question the attitude of the St Johnstone players following their goalless draw at Parkhead.
Celtic struggled at home and while Saints played well to take a point it is too simple to say the Saints players raised their game.
The Hoops manager made seven changes.
Why? Some would say he was prioritising the second leg in Russia but Tommy Wright didn't open that can of worms and just chose to be happy with his team's performance and point.
The Hoops have beaten Aberdeen nine games in a row but I wonder, if Aberdeen win on Sunday, will Brendan make the same comment at full-time? I doubt it.