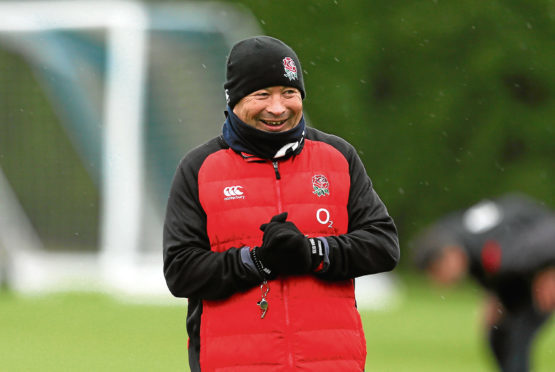 Eddie Jones is one of life's classic wind-up merchants.
The England coach can't see a windmill without tilting at it and if he believes he can spark disharmony in opposition ranks his first instinct is to go for the jugular.
In the days ahead as we build up to Saturday's Calcutta Cup match at Murrayfield we can expect plenty of sledging from the Jones boy – and none of it involving the Winter Olympics.
But the response from his Scotland counterparts must be a resolute refusal to get dragged into verbal battles, at the expense of focusing on the main priority.
It will be surprising if Australian Jones doesn't indulge in some sort of psychological warfare when his team turns up in Edinburgh.
Expect him to question the calibre of the Scottish half backs and express his misgivings over the recent performances of Finn Russell and Ali Price.
If he thinks it will spark a few wobbles in the minds of Gregor Townsend and his colleagues, we can wager that Jones will whip up controversy.
But here's the rub: these sort of spats don't work when they are full of empty platitudes.
And England, so far in the Six Nations, have been far from convincing, despite all the hype.
Yes, they have won against struggling Italy and in a close encounter with Wales, but they have been nothing special.
Efficient and competent, but also lumbering and rather one-dimensional.
True enough, if the struggle between the Auld Enemies turns into a war of attrition, England will be the happier.
But Scotland honestly have nothing to fear if they maintain the vim and vigour of recent Murrayfield showings.
Granted, Scotland haven't triumphed in these contests since 2010 but, while Twickenham has been a fearful place for Scots all the way back to 1983, Townsend must deliver the message that Jones' personnel are no world-beaters.
He must also look to introduce the same attacking intensity which typified the second half display against France earlier this month.
Bring in David Denton, a flanker with genuine va va voom. Remind Hugh Jones that he is a constant attacking threat and encourage Stuart Hogg and Greig Laidlaw to kick deep, use the angles and keep switching the point of attack.
If they manage that, they have every chance of success and winning back the Calcutta Cup.
And no matter what Jones might declare, whether bashing individuals or harking back to last season's 61-21 victory at Twickenham, this is a new day, a new dawn.
Let him chunter on. Doing your talking on the pitch is the only place that matters.