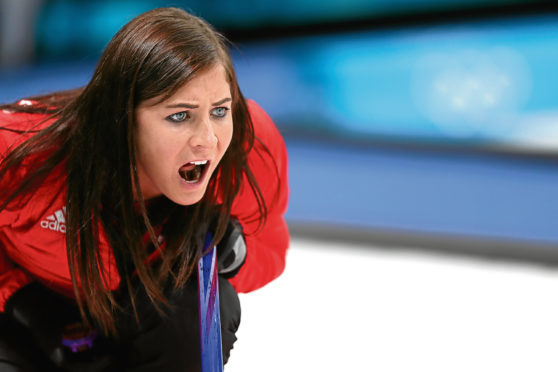 Eve Muirhead kept ice-cool to deliver a shot that kept alive her Olympic dream – but she expects the pressure to increase.
Scotland's Great Britain curling skip knew couldn't afford to lose to Switzerland but was trailing 7-6 heading into the final end.
And Muirhead produced the goods with her last stone, meaning qualification for the knockout stages is still possible and there is all to play for with two group matches remaining.
"I could see about an inch of that stone," she said.
"I train for those shots every day and nine times out of 10 I'd make them but it is different when the pressure is on and you're on the big stage."
Coach Glenn Howard, a four-time world champion, praised Muirhead's nerves – but admitted his were shredded.
Howard said: "That was a pretty tough last shot she played and she buzzed it down like it was nothing. But that's Eve Muirhead, she makes the clutch shots when it matters."
Match after match in this Olympic tournament is going to the final stone or extra end.
It's certainly not good for those of a nervous disposition.
No team is running away at the top of the standings but neither is any team struggling.
Japanese skip Satsuki Fujisawa, whom Muirhead must still face, inflicted a second straight defeat on Sweden's Anna Hasselborg, the pre-Games favourites.
And Canadian world champion Rachel Homan, Muirhead's other remaining opponent, has lost as many games as she has won.
Muirhead said: "As a team we knew that every game would be tough but I never expected every match to be so tight.
"It's so close and it's certainly exciting to watch, I suppose, with lots of unusual results."
Meanwhile, Kyle Smith's British men's rink were buzzing with confidence after their win, also secured with the final stone, against Denmark. They've won four from seven but next up is Thomas Ulsrud's Norway.
"We've played Norway a lot and they've got years of experience in their team," said Smith.
"We beat them when we last played at the European championships but they've beaten us on plenty of times too.
"We've got room to step it up a little and, if we do that, I think we will be alright.
"After we went to two wins and three losses we knew we had to win a couple of games and it's looking much more positive now.
"We need to keep that same strategy and we won't be far away."
l Watch Team GB's curlers in action today on the Eurosport Player and Eurosport 1. Don't miss a moment of the Olympic Winter Games at Eurosport.co.uk and the Eurosport app