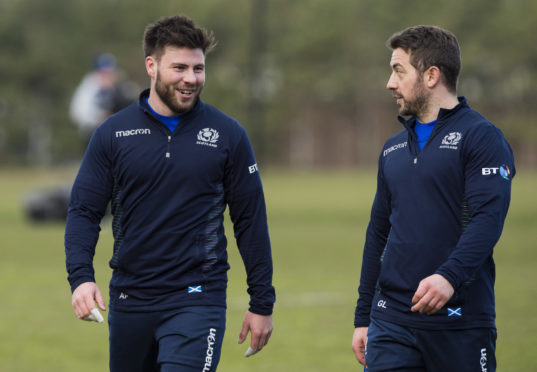 Gordon Reid found there was no problem physically with his head but admitted that keeping it when taking on England in the Calcutta Cup was maybe an issue.
The London Irish prop believes Scotland lost the game mentally at Twickenham last year in the dressing room before the game – and much the same happened prior to the Six Nations opener against Wales in Paris.
He said: "It's a massive game, especially for Scotland, and we're playing a side that, with Eddie Jones as coach and all the players they've got to call on, I think is the best team in the world just now.
"It's hard, I'm Scottish through and through and you're always going to get emotional.
"The game against New Zealand was also a massive game but we just need to step up and not play the occasion.
"I just feel that we need to just forget about how big a game it is and just go in there with clear heads."
That didn't happen at Twickenham last year and the Scots got a shellacking for their troubles.
"It showed the importance of keeping a lid on things," he continued. "Last year we let our emotions get to us a little bit too much and that resulted in them beating us by a hefty amount.
"So it's a huge thing for us to keep level-minded and keep our heads strong going into the game and thinking positively."
The wrong mental approach was responsible for the Cardiff debacle, he believes.
"Starting the Six Nations, you're excited and we you want to get going," he said. "Against Wales everybody hyped us up – 'Scotland are going to win, Scotland are going to win' – and I think we believed that.
"We believed we could just go and win, just needed to show up. Obviously that wasn't the case."
Reid used to be a loud presence in the dressing-room, beating his chest, but he's toned it down.
He said: "I think you just need to take it as a normal game in the dressing room, and do what you normally do at club games or whatever.
"If that's still beating your chest and shouting out loud, then fine. But you just need to take a step back and actually look at where you are, take in that you're playing in front of your home crowd, but don't get too excited."
Reid had three months off with a concussion problem which caused him to miss the November tests, and feels energised for the Six Nations.
"They identified that I had a brain so that was quite good," he joked. "They send me to a specialist who identified that I was totally crazy and had to have a couple of months off.
"In one way it was good to get that break. I had a couple of weeks away with my family and it brought back the spark when I got back into it.
"That's probably the longest I've been out but it gave me the drive I needed to get back in. I've been playing for London Irish, who are not doing as well as they could be, but it's just been a learning curve being down there."
And learning about many of the players he will face on Saturday.
"I've played against most of the England boys who are in the Premiership," he added.
"It doesn't really give you an advantage, although you obviously get to know them and get to know what their traits are.
"You just know what they do: for example, I've played against (England tight-head) Dan Cole in the scrum and you just know what they do and learning how you can counteract it."