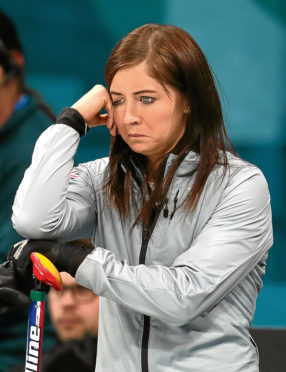 Eve Muirhead will use the pain of experience to motivate her for today's Winter Olympics bronze match against Japan.
After losing to Sweden yesterday, Great Britain skip Muirhead now knows what it is like to go down in two Olympic semi-finals – but she also has experience of rebounding to walk away with a medal.
Four years ago in Sochi there were tears after failing at the final-four stage. Yesterday, it was more a case of steely resolve after Britain's 10-5 defeat by the Swedes.
If Britain hope to achieve the target of five medals set for them by UK Sport, today's bronze match is a must-win one for Muirhead, Vicki Adams, Lauren Gray and Anna Sloan.
Muirhead said: "I don't think it can harm us what we went through four years ago. We went through a semi-final loss and we came back strong to get the bronze medal. As a team, we know exactly what we did. From four years ago we learned a lot, so we're going to come out very strong and hopefully play well for that bronze.
"As the skip I'm gutted I missed a few shots out there but it happens, it's sport. Japan lost a world final a couple of years ago. It's going to be a tough game but we'll come out strong.
"I've never said that I'm coming just for the gold. I've trained the last four years to come to an Olympics and a medal was the target. Of course, we came up short but we came up short against a strong Swedish team. We'll take some time as that's a disappointing loss but then we'll move on."
Bronze-medal matches are the hardest to play, both teams coming in downbeat with confidence flagging. Unlike four years ago, there were no tears from Muirhead after the loss to Sweden, perhaps because this was a match Britain were always chasing.
Sloan admitted the Swedes were the better team in the handful of clutch points in the three-hour long match but, like her skip, was determined to accentuate the positives.
Sloan said: "We've been here before, we know what it takes to lose a semi-final and win a bronze-medal match. I think that gives us more perspective and I'm not going to dwell on this forever. We've got a massive match to win."
l From standing guard outside Buckingham Palace to helping set a world speed record, British bobsleigh pilot Lamin Deen is a man who relishes responsibility. Certainly no bad thing when he will have the lives of him and his three team-mates in his hands for this weekend's Olympic four-man competition in Pyeongchang.
Last November Deen was part of the British quartet who clocked a world record top speed of 92mph on the way to World Cup silver in Whistler.
A full-time athlete since 2012, he used to combine bobsleigh duties with being in the military and served with the Grenadier Guards in Bosnia and Kosovo. But it is staying ice cool on the track which is the 36-year-old's main priority now.
He said: "I tell you, when you are going at that speed, once you get halfway down the track, the rest is a blur, it's just muscle memory. Imagine sticking your head out of the car going at 99mph on a motorway, that's what it's like.
"You've got to rely on your visualisation. When you do get to the point where you cannot react to what you see, you are just a passenger and your hands just do it for you and you've got to trust in your sled."
l Can Eve Muirhead win Britain's fifth medal? Watch her bronze medal match live on Eurosport 2 at 11am today. Don't miss a moment of the Olympic Winter Games at Eurosport.co.uk and the Eurosport app.