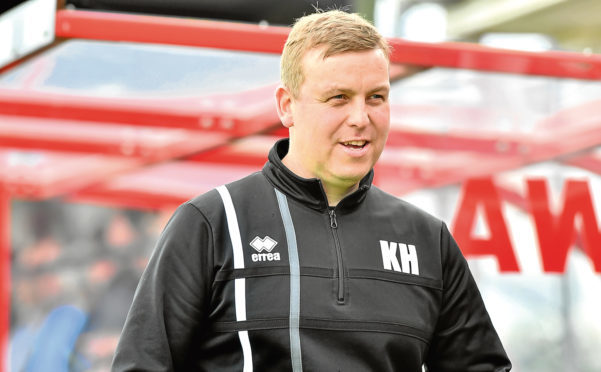 Turriff United manager Kris Hunter admits he has a fight on his hands to persuade several key players, including captain Cammy Bowden, that they still have a bright future at the Haughs.
Hunter returned for a second spell as Turriff manager last month after the surprise resignation of Graeme Roy.
He said: "We will shortly make our decision about whether to bring guys in or not. Everything is up in the air at the moment until we see what kind of characters we have in the dressing-room. We performed well in the recent 2-0 defeat at Brora Rangers.
"There were a lot of positives to take from that game and we will have a few guys back for the Buckie game this Wednesday night, including striker Davie Ross and defenders Cammy Bowden and Darren Wood."
Hunter said rumours that Bowden had signed a pre-contract agreement with another Highland League club were not accurate.
He said: "I've asked Cammy about that and he told me that he hadn't signed a pre-contract agreement with anyone.
"I'll take his word on that as I don't think he would tell me lies. The door is open for any of our players who want away to stay but it needs to be on new contract terms. That's the way we have to go. I brought Cammy to the club and gave him his debut as a youngster during my first stint as manager here.
"l've got a good relationship with him and my first priority is to keep him here and build a team around him.
"Cammy was, and still is, my captain. I know he wants to win things and so do I.
"I didn't return to Turriff just to manage a mid-table team. I want to build a team capable of winning trophies around my inspirational club captain."
Hunter is looking forward to Wednesday's trip to Buckie's Victoria Park, a ground where his father Rex was a popular player.
Hunter said: "I used to go along to Victoria Park as a kid with my dad back in the late 1970s.
"He scored a lot of goals for Buckie and was revered because of that.
"Even now when I go to Buckie people at the club still speak very fondly of his time at the Jags.
"Any time I go back to Buckie I'm always treated really well by everyone at the club."