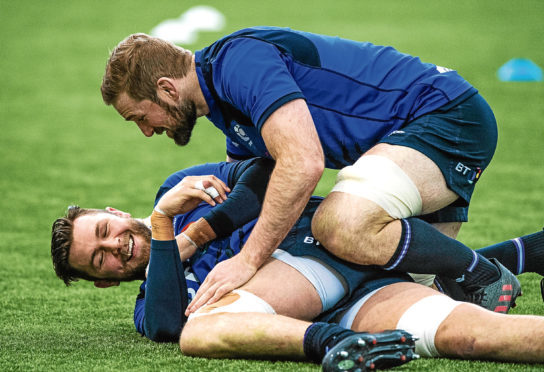 Scotland are determined to avoid the hurt of a poor finish to their campaign by beating Italy today – for what would be the sixth time in a row and the third time in succession in the Eternal City.
Captain John Barclay feels the positives of this campaign could be outweighed by the negatives if Scotland fall to a shock defeat in the final game in Rome.
He said: "We want to win every game whether it's the first or last of the championship, but we need to win this as it's the last one.
"To go away from camp having done some good stuff and not win, like we did when we lost poorly to Fiji at the end of the summer tour, you go away with a sour taste in the mouth. No one wants to have that.
"We want to finish three from five as we did last year. There are different permutations where we could finish in the table, but three from five we could walk away thinking we have played some good rugby.
"There are a couple of games when we maybe didn't perform as well as we could have but we're playing a good brand of rugby. We just want to go out here and play that way but with a bit more accuracy and finish well."
Barclay scored a try in the win in Rome two years ago but has less pleasant memories.
He added: "Playing in Rome is tricky. The crowd are pretty berserk to start with, they are very passionate. They will be pretty frustrated at how their own campaign has gone, having made a gradual change to their style.
"They now have some players who have some magic dust in their backline and we will need to watch them.
"They've always mixed up their game but it's a much bigger challenge now."
Scotland assistant coach Mike Blair says the Dark Blues will find a different Italy to the team they have dominated.
"This is really two new teams," he said. "The Italians have built on Zebre and Treviso's improved form in the Pro14 and they are playing a fair bit of good rugby.
"I don't think banana skin is the right word but we are very aware that we need to play well to win the game. Apart from the Irish game, they have been in matches for long periods of time. They have a lot of quality there now and a lot of dangerous players."
Blair added that finishing the championship strongly by playing the fast style they are trying to perfect is the aim for Scotland.
He said: "We had a successful tour in the summer and then throwing in that loss to Fiji at the end definitely hurt. It was a long few months afterwards.
"We don't want it to be the same in this tournament. There's been a lot of stuff that we have been really pleased with but we want to show the progress we have made and end the tournament on a high."