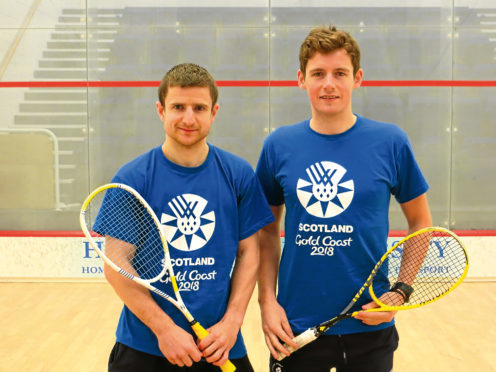 Come the end of next month, Fortrose Academy could have two Commonwealth Games champions as former pupils.
The school of 642 pupils has enjoyed a purple patch in producing top-level athletes but squash players Alan Clyne and Greg Lobban are going for gold for Scotland.
Both were part of Team Scotland four years ago in Glasgow and are proud of their roots, growing up in the Black Isle.
As well as Clyne and Lobban, Fortrose Academy has also had Olympic rower Alan Sinclair, former women's hockey captain Linda Clement and Scotland's top female discus thrower Kirsty Law on its roll.
Clement and Law both donned Team Scotland vests in Glasgow and Sinclair made the final of the men's pair in the 2016 Rio Olympics.
Clyne said: "In doubles you get to know what each other does on court pretty well. Our doubles coach said it must be a Black Isle thing because me and Greg seem to know exactly what each other is going to do.
"Greg is a bit younger than me and I think he came in to Fortrose Academy just as I was leaving, so our paths never crossed. But we've gone down the same route, moving away to Edinburgh for university then joining the pro tour.
"Fortrose was great for us in our younger years, developing us into the athletes we are today."
The pair are from villages just five miles apart, with Clyne growing up in Munlochy and Lobban at North Kessock.
Even though they both played at Inverness Tennis and Squash Club growing up, their first tournament together was not until the world doubles championships in Australia in 2016.
Clyne and Lobban swept all before them on their way to victory, which was the foundation of their flourishing partnership. They got to the final again in Manchester last year but fell one match short.
However, that successful visit to Darwin 18 months ago had a less-than-ideal start for 31-year-old Clyne.
He said: "I didn't have the correct visa and so couldn't get on the first flight out. I turned up at the airport and then had a mad rush to try get hold of the right paperwork and sort out a flight.
"Thankfully, I was there a couple of days before the first match. It was a stressful couple of days. It could have been a busy week for Greg, having to cover the whole court."
This is Clyne's third Commonwealths, having represented Scotland back in Delhi eight years ago.
From an awestruck 22-year-old getting his first taste of a major, multi-sport event in India to the hoopla surrounding a home Games in 2014, Clyne has significant experience to draw upon. He is also a seven-time national champion and has two previous heartaches in bronze-medal matches that serve as fuel for his latest pursuit of success.
He said: "It's not as simple as 'third-time lucky' but this time I want to go at least one step further.
"Squash, as a sport, needs to take advantage of this, we need to showcase the sport.
"I would love to be able to take a medal back to Fortrose but there's a lot of work to be done first."
• The men's singles starts on April 5 and the doubles on April 10.