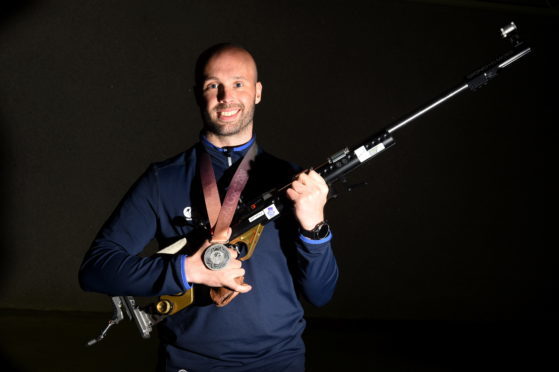 Neil Stirton had already been through the mill once to pick up his first individual Commonwealth Games medal.
The surge of adrenalin and fluctuating nerves had been harnessed in the final of the men's 50m rifle prone, earning him a silver medal and his fourth Games medal overall.
However, news received on his final day of competition, in qualifying for the 50m three positions, put his hopes for a further medal on the backburner. He was told a very close friend had lost his battle with cancer aged just 39.
That had to be processed before he took to the range. Stirton, 37, refuses to use it as an excuse for not making the final – 'I didn't make the final because I didn't shoot well' – but it helped provide an element of perspective.
Stirton said: "The main goal was to come away with a medal. I was hoping to be in the final in the three positions – I had some bad news on the day that a friend had passed away, so I had to deal with that before the match. It put things in perspective having news like that.
"I kind of wish I hadn't been told until afterwards. My friend lost his battle with cancer and it was a struggle, but I just thought every shot, I'd do it for him. There were some quite wild shots and if I hadn't had those, I'd have been in the final. But in sport there's no point saying if I did this or that. There were a few upset people on the range but I'd got my first individual medal from four Games and I was still happy to have done what I did."
Longer-term, he is mulling over running a half-marathon and raising money in memory of his friend.
Stirton's silver on the Gold Coast was his fourth medal, after a silver in Melbourne and a bronze and gold in Delhi in pairs events. The exclusion of shooting from Birmingham 2022 puts his future in the sport in doubt.
Shooting is not full-time; Stirton combined his business, technology firm Ikiji Ltd, with training. Stirton works three days a week in Edinburgh and would clock off at 6pm before spending another five hours at the range. Holidays, hobbies and family time all had to be parked.
He does not want to be an athlete that cannot let go of past glories. Time for reflection is required first but if Stirton – a Denwood Target Shooting member – does elect to bow out of the sport, he will be comfortable with the decision.
He said: "I still need some time to reflect post-Games. I've done international sport for nearly 19 years and I'll never say never but for now I'm looking forward to some time off. I'll have a couple of months, regroup and there's potential for the World Championships in September then post-that, we'll see what happens.
"I'd maybe be swayed (to come back) but there's always the temptation of one more. The biggest thing I'll miss is friends from the sport as so many have been made over the last 19 years. But part of me thinks 'four Games, four medals, stop on a high' and not fade into distant memories and keep going and maybe struggling.
"My focus may shift towards my company and my better half, investing more time in that. Any spare time I've had has been working and it's quite a selfish trait you need as an athlete to perform at the highest level. It's probably time to give something back to them now.
"It may mean being more proactive within the club. Training some of the youngsters, doing some coaching. We've got plans to get electronic targeting here and we've done a bit of fundraising for that already – we're still planning for another £10,000. The targets are ordered and with my technology background, I'll help them set up all the electronics.
"One thing I'll say with sport is it's helped me in other elements of life. I can apply the mindset that's used to training and the approach to competitions, to problem-solving in everyday life. Many people don't think about the transition after sport but many companies are now employing former athletes. It's good PR but it's having that OCD nature where you give them a problem and they'll go about finding a way to solve it."