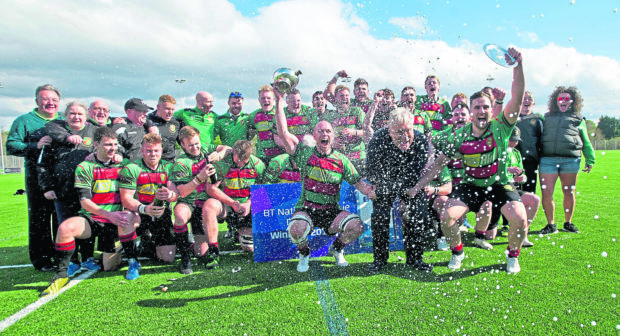 Highland stormed to a 71-10 victory against St Boswells at a packed Canal Park on Saturday to clinch the National 3 title and win promotion in style.
Head coach Davie Carson was delighted with his side's swashbuckling display as his players ran in 11 tries to end the season in style.
Under Carson's leadership, Highland have made a remarkable journey over the past five years from Caley 2 North to National 2.
He said: "It has been achieved with the backing of a great group of coaches and committee but most of all by a bunch of players who have been with me for most of the journey.
"Most of them are still young, so who knows what is ahead of us. I'm not saying we'll win promotion next season but we will hold our own in National 2. The focus just now is on celebrating an emphatic win.
"We probably played our best rugby of the season in the first half."
The Inverness side ran in six first-half tries, four of which were converted by centre Scott Fraser, who also scored two touchdowns to secure a 38-3 lead at half time.
The other home touchdowns were attributed to centre and joint captain Rory Cross, flanker Callum Carson, who is the head coach's son, winger Craig Findlater and full-back Ian Chisholm.
The second half became a rout as the new champions underlined their status with five more tries, although the beleaguered Borders side managed one of their own.
Highland's scorers in the second half were flanker Gordon Gregor, replacement Craig Irvine, lock and joint captain Stuart McDonald and winger Mick Gordon, who added two late efforts, one of which was the pick of the bunch, running from deep inside his half.
Fraser kicked four more conversions to complete a remarkable day and season for all associated with the progressive Inverness club.