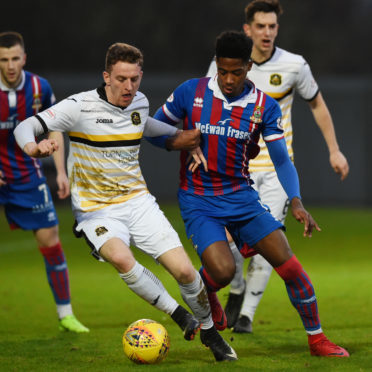 New Caley Thistle signing Tom Walsh always wanted to get back to full-time football after experiencing the less glamourous side of the beautiful game.
Walsh left Rangers in January 2017 after three loan spells and his hope of finding a new club immediately did not materialise.
A stint in the League of Ireland with Limerick proved fruitless, with Walsh struggling for games and deciding he needed to come home. Dumbarton handed him a lifeline in Scotland to get back playing again and he is indebted to the club for saving him from the scrapheap.
The pre-contract offer from Inverness had been on the table since January and he penned a two-year deal on Tuesday. Manager John Robertson sold him the club and he jumped at the chance to get back playing full-time football again.
Walsh said: "You play as a wee boy to be a footballer and to play with Rangers was the best thing ever. Then when you're a free agent, you think you'll be fine. I was in the wilderness after Ireland, which was a bit of a shambles. Dumbarton got me back playing and I can't thank them enough for that.
"It was tough – you go from playing with Rangers and thinking everything is great. I came back from a loan at St Mirren and asked to leave and they didn't stand in my way. You think you'll get a club but it's an awkward time of the season, just after January. Nothing was coming up and Ireland was something different.
"I was training every day (in Ireland) and wasn't getting a chance. I wanted to get back playing every week and when I look back a year ago, it's changed days. I feel like I've seen two sides of football; you go from playing in front of big crowds to having Saturdays off, sitting at home on your own. I didn't want to go back to that place.
"I took my time with the offer to make sure it was the right decision. The pre-contract was there from January and I didn't want to rush anything, but I knew with a couple of games to go I needed to make a decision. The biggest thing for me was the manager showing an interest and for the second half of the season, he's sold the club to me. That was a big factor."
Walsh (21) sees his best role behind the main striker but is also comfortable on the wing. He played against Caley Thistle in the IRN-BRU Cup final and is a fan of their style of play.
His Sons team-mate Kyle Hutton has also been linked with a move to Inverness and Walsh knows what qualities he would bring.
He added: "I've been at three clubs with Hutts. He's played in the Champions League with Rangers at the end of the day. He's a good passer and can dictate play from the deeper midfield position. Whether he comes or not I'm not sure, that's his decision. He's got a good job and he's got family down there, so it's up to him."