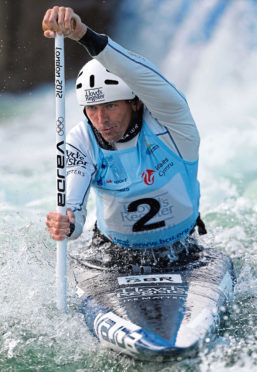 Three-time Olympic medallist David Florence has a fourth Games on his radar as he prepares for next week's European canoe slalom championships in Prague next week.
The Aberdonian has been selected for the senior Great Britain team for the 18th time heading and hopes an impressive display keeps him on track to make Tokyo.
The competition has stepped up a level since Florence started competing for his country in 2005. However, he is the 2015 world champion in C1 and has silver medals from the last three Olympics, as well as a C2 team gold medal at the Europeans in Augsburg six years ago.
The 35-year-old intends to keep pushing himself over the remaining two years of the Olympiad to make sure he is in the running for an Olympic spot. Florence said: "The main target is Tokyo – I'm pretty driven by that. It's going to be hugely difficult but I would love to be there.
"Every time I've been there, I've been beaten by really small margins. To be Olympic champion would be incredible but I'd be no less proud had I got no Olympic medals. On all the occasions I've won silver, I've come close to gold and given performances I'm proud of. That's fantastic to me and I've been lucky to have the opportunity."
Florence has chosen to focus on the individual event in this Olympiad as the C2 slalom does not feature on Tokyo's list of scheduled sports. He is returning to the course where he became a double world champion in 2013 – winning both the C1 and C2 – and goes to the Czech Republic optimistic about his chances.
He added: "I don't really set myself targets, just to try to be at my best and paddle well. It sounds boring but it's true. I'm very aware of what would be a good result and there's a good chance certainly of getting on the podium.
"I'm capable of getting top spot and it comes down to putting myself in position on the day."
The 2018 European canoe slalom championships take place in Prague from June 1 to 3.