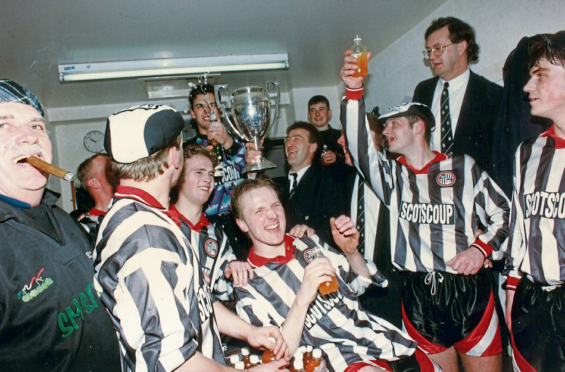 A number of former rival players and staff have supported a petition by Elgin City supporters to reinstate the 1992-93 Highland League title which was stripped from the club.
The campaign has gained more than 500 signatures since being launched a month ago to coincide with the 25th anniversary of the Scottish Football Association's verdict to uphold a decision by the Highland League to void the championship – which came in Elgin's centenary year.
The punishment was administered on the basis that Elgin failed to tell the league that two suspended players could play if a request to bring forward the date of their final league match against Forres Mechanics was met.
Player-manager John Teasdale and John McDonald both had suspensions set for Saturday, April 24, however were eligible to play when the two clubs agreed to play the game the previous night. The pair played in City's 6-0 victory at Mosset Park, which attracted a crowd of 1655.
Elgin argued the change in date allowed them to accommodate a friendly against top-flight side Dundee on Sunday, April 25, giving Dark Blues boss Jim Duffy the chance to run the rule over Elgin's 23-year-old defender Mike Teasdale, who he went on to sign for £32,000.
Supporters of the Moray outfit have launched a campaign to return the championship flag to Borough Briggs, and restore the medals that were taken from the players.
That move has gained support from a number of rival personnel inclduing former Cove Rangers manager Dave Watson, who was in charge when his side finished second behind City that year.
Watson said: "There was politics involved and that's not right. Elgin were, as far as I'm concerned, the best side in the league that year, and that was proved in the league table.
"I don't think my chairman [Alan McRae] or myself ever thought it would come to this. If there was a feeling of skullduggery, they could have made the game void and given Elgin the championship less the three points. The players retrospectively should be awarded their medals now. The players, some of whom I know personally, lost their medals, and that's horrible."
Former Keith chairman Sandy Stables, also a former Scottish Football Association councillor and member of the Highland League management committee, said: "It went to the management committee meeting and the decision was to strip them of the title, which was very unfortunate. From a personal point of view, I thought it was too heavy a punishment. The Highland League management committee decided on that level of punishment."
Former Fraserburgh goalkeeper Billy Gordon, who holds the club record of 721 appearances, and Charlie Christie, who won the Highland League title with both Caledonian and Thistle, have also supported the petition.