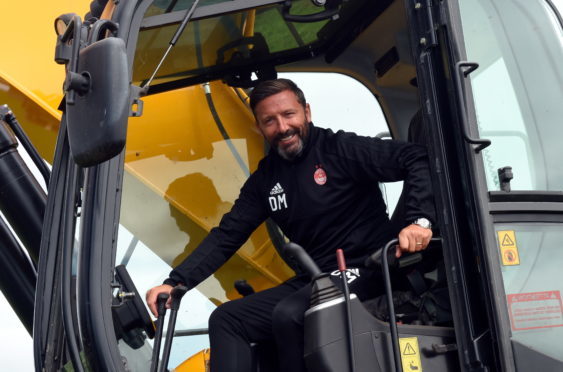 Derek McInnes feels Aberdeen will have a training complex that will be the envy of many clubs across the country once their new Kingsford base is completed.
Ground was broken yesterday on the first part of the £50million project, which the Dons hope to be using by pre-season next year.
The Aberdeen manager has played an active role in the plans, speaking at council meetings in favour of the training ground and stadium development and has had input with what the site will look like.
The club's struggles for training spaces have been well documented and McInnes hopes that, once complete, it will set the Dons apart from their rivals.
McInnes said: "It is a legacy project. What we'll have in time will be the envy of a lot of clubs, having the stadium and the training facilities together. I think every club that has made that investment towards their training facilities is proud. We want this to be something that we can all be proud of and other teams admire when they come here.
"Myself and the staff sat down with the club at various stages along the way.  The skeleton of how it will look is catered to what we think is right to satisfy the professional department and our practicalities, the youth department and the community. Once it's built, it's built and you want to make sure it is exactly the way we want it and try and use the space we've got to the best use.
"These things are never simple but we have an idea in mind of when we actually see ourselves in here physically training.
"Hopefully, that will be the case. We're five years on but the problems we have regarding the training facilities are still clear. Even this week, coming back from our pre-season tour and finding facilities to go and train at. It's still a big concern from us as a staff to find pitches of a certain level for the players to train on.
"Yesterday is a reminder of how important these facilities are going to be for everyone within the club, certainly within the professional department and the whole community."