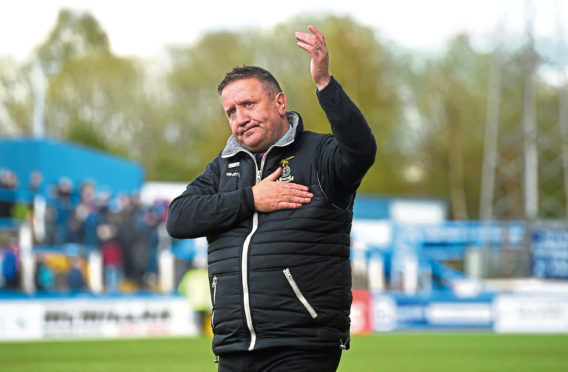 John Robertson would never underestimate Highland League opposition – not when he views the part-time division as a rich recruitment ground.
The Caley Thistle manager, since returning north last summer, has tried and failed to sign a couple of the north game's finest.
He also well remembers the talent and dependability of the Highland-reared players who helped win promotion to the SPL during his first stint at the club.
Recent spying trips and competitive matches watched last season have also informed Robertson of the dangers that lurk in John Sheran's ranks, even with prolific striker Mitch Megginson suspended.
The famous Moscow State Circus has taken residence beside the Caledonian Stadium this week but the Caley Thistle manager feels his team will be the clowns if they take Cove lightly.
Robertson stressed: "We've prepared well and watched Cove Rangers twice in pre-season, beating Montrose and Falkirk.
"We will give them the respect they deserve as Highland League champions for the last two seasons. Cove present a big challenge. I saw them in action in the Highland League last season and also in the second play-off game against Cowdenbeath, where they felt really aggrieved by on the day.
"They will be devastated they never got up because they had big opportunities in both legs. They really should be a league club right now – there's no doubt in my mind about that.
"We'll be treating them as we would any league club. That's the respect they've earned and that's the respect they're going to get.
"Mitch Megginson is suspended and can't play. He got the plaudits for scoring 52 goals last season and that's not a fluke. He has done it at all levels, at Aberdeen and when he went down to Alloa. There will be a few league clubs who would want him in their side.
"But it is not all about Mitch. They have Paul McManus up front, Daniel Park who was here.
"Jamie Masson, Ryan Strachan, Darryn Kelly and all those boys are experienced players. We know we face a quality team who have dominated their division for the last two seasons."
He added: "Blair Yule is one we looked at and is back at Cove Rangers from Arbroath.
"He decided, despite his obvious football talent, he wanted to remain part-time. It works better for him.
"We also looked at Kevin Fraser from Buckie Thistle and looked at Mitch Megginson. For one reason or another, they've decided the route they're taking at the moment is best for them.
"We're under no illusions as to the quality of the players. There are good players in the Highland League who choose to play there for financial reasons.
"Yule is probably the best example. A full-time job, allied to money from part-time football, is far better than what they would get coming to us full-time – probably double.
"We respect that totally and it doesn't diminish them from being good players."