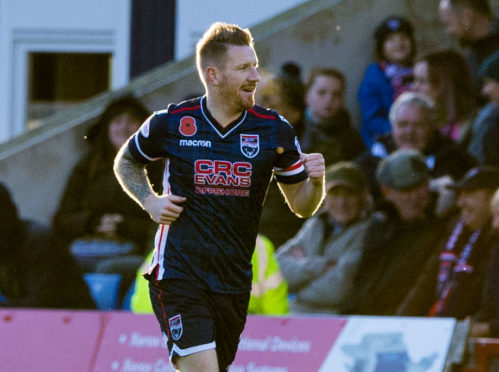 It would be easy for Michael Gardyne to begrudge all the managerial upheaval at Ross County.
After all, it is hitting him in the pocket every day.
But the long-serving Ross County attacker is wholeheartedly buying into the Stuart Kettlewell-Steven Ferguson regime – despite being hammered by fines.
In a move stirring hilarity on the training ground, the new co-management team have set £5 penalties for any player uttering their 'Ketts' and 'Fergie' nicknames.
Older players like Gardyne, the club goals and appearances record-holder, have been hardest-hit having known the pair for years.
Kettlewell and Ferguson were unable to save County from relegation in the final 10 games of last season, where Jim McIntyre was sacked and then Owen Coyle's disastrous run ended in resignation.
Ahead of today's competitive opener at home to Elgin City, though, Gardyne made it clear spirits were high in a re-energised Staggie dressing room.
He said: "I think we've already racked up a couple of hundred quid but it so easy to do.
"I was a team-mate of Ketts' and the worst part is when they join in doing possession boxes. Asking for the ball, it is so easy to shout 'Ketts' or 'Fergie'.
"It is just good banter and those two have a laugh about it as well. The respect is already there from the lads. We know it is 'gaffer' – or 'gaffers' – but it is hard to remember.
"We have a laugh and joke, but everybody knows who they are. The way they went about past roles, in the youth and under 20s set-up, meant they already held the boys' respect.
"But the biggest part is how they go about training every day, the quality of it, and the way everything is organised.
"There is a plan set out every week and everyone knows exactly what is happening daily. They didn't need to do too much to get the respect of the lads."
Gardyne is confident County can avoid the type of post-relegation hangover Caley Thistle appeared to suffer in the first part of last season.
The 32-year-old stressed: "Everyone was down and disappointed. It was devastating.
"No player wants to experience relegation and thoughts turn to everyone else at the club. People might lose jobs.
"But the chairman has been brilliant. He has looked after people who looked after him. That's what he is all about – he's always been that type of man and chairman.
"He put faith in Ketts and Fergie and the boys are right behind them. It's up to us to make sure we can push on and, hopefully, get back up next season.
"We don't want that hangover feeling, but new signings have breathed freshness into the place. Everyone's looking forward to it and raring to go against Elgin City."