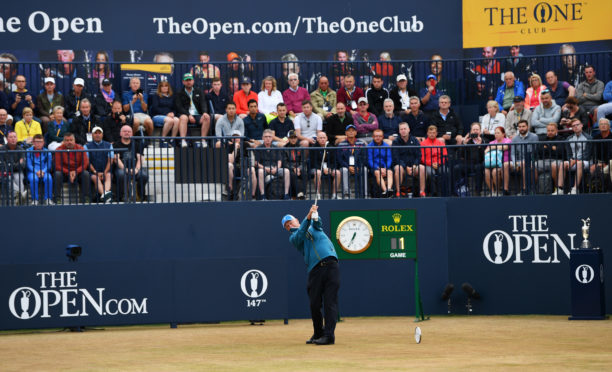 Sandy Lyle safely navigated the honour of getting play under way but was left cursing the greenside bunker he failed to avoid on the 13th as he faces making his Open farewell two days earlier than hoped.
The 60-year-old, whose exemption as a former winner of the Claret Jug ends this year, flushed a 4-iron down the middle of the fairway at 6.35am to begin the 147th edition of golf's oldest major.
Despite a couple of missed birdie putts, he reached the turn in promising shape at one under par but Carnoustie showed its teeth on the back nine.
A double bogey at the 175-yard 13th was followed by dropped shots at the closing two holes as he signed for a four-over 75.
Lyle needs a low round today to be in with a chance of sticking around for the weekend but, despite failing to make the most of the benign conditions, he still enjoyed his early stroll around Carnoustie.
The 1985 champion said: "I thought there would only be 20 people there at the first tee, 15 of whom would be my family.
"I was nervous last night, never mind this morning, but the opening tee shot went a lot smoother than I thought it would.
"At least I didn't need to hit a 1-iron or a driver. It was a fairly docile first hole with a 4-iron off the tee and an 8-iron for the second.
"The first bunch of holes went pretty well and I was happy after nine. Then I discovered a bit of bunker trouble.
"It wasn't as happy with the second nine. Hopefully I can shoot a couple under in the second round to give myself a chance."
There are 102 bunkers dotted around the championship course but it was the greenside trap on 13 that curtailed Lyle's momentum.
He said: "I was in five bunkers on the back nine and it wore me out.
"I was between clubs on the 13th. I did an outing for Nikon a month ago and I played that same hole for nearly two and a half hours and never missed the green.
"I wasn't sure if it was an eight or a 9-iron. The yardage dictated it was an eight but I pulled it straight in the bunker against the face.
"I had one foot in the bunker and one foot out and I caught the lip on the way down.
"I didn't miss the ball but I only hit it about three inches.
"I had the same shot again and left it in the bunker and then came out to a foot and tapped in for a very easy five.
"That can happen. It was an unfortunate lie."