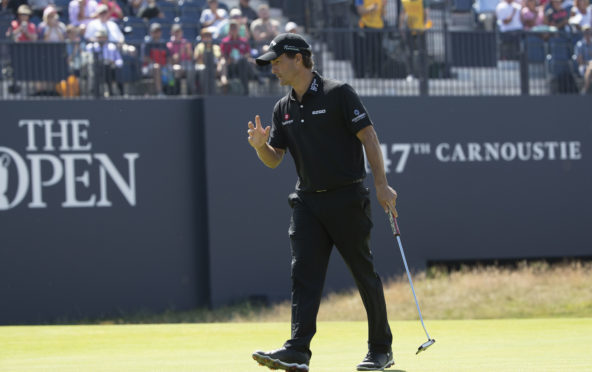 Kevin Kisner revealed playing football with Jordan Spieth and Jason Dufner was the unlikely catalyst for his sparkling start to the Open championship.
The 34-year-old American is sharing a house for this week's major with Justin Thomas, Spieth, Dufner, Zach Johnson, Jimmy Walker and Rickie Fowler.
The group have been unwinding from the pressures of chasing the Claret Jug with regular kickabouts in the garden – although it was Kisner who started on the front foot at Carnoustie by topping the leaderboard on day one with a five under par round of 66.
The housemates have won eight majors between them with Kisner and Fowler the only players yet to taste success in one of golf's big four events.
Kisner, who required only 22 putts, is enjoying living under the same roof as so many major champions and hopes he can match their achievements by winning the Claret Jug.
He said: "It's not intimidating at all. They're all great people.
"That's the best part about it. We're out there playing soccer at night and hanging out.
"Everybody is really chilled and it's a lot of fun to be around those guys.
"They are great players and it's really cool just to hear what they have to say.
"Everybody's sitting around at night scratching their head on what club to hit off of every tee.
"I spent a lot of time with Jordan and the Claret Jug. I flew home with him after he won last year.
"He gave it back on Monday. It would be cool to return the favour and let him look at it a little bit."
Defending champion Spieth dropped four shots over the closing four holes to finish the day six shots adrift of Kisner after a round of one-over 72.
The 24-year-old, without a victory since last year's victory at Birkdale, said: "It felt like a missed opportunity.
"I have done a bit of that this year when decision-making has cost me.
"I think I'm certainly in a recoverable situation. I imagine this is as easy as the course could play.
"I don't see the winning score being any better than it was in 2007 (when Padraig Harrington won on seven under) with tomorrow's forecasted tough conditions and Sunday's forecasted heavy winds.
"I think wherever it is Saturday night, it comes back on Sunday too.
"It's not a bad place to be. A solid round tomorrow to stay in the top 25 or top 20 will be the goal for Friday to feel like I can do something on the weekend."
Tommy Fleetwood, tipped as one of the main British hopes for the Claret Jug, also opened with a round of 72.
The Carnoustie course record holder said: "It's not disastrous. It is funny how much better level par feels than one over but I am a good start tomorrow away from being back in it."
American Tony Finau and South Africans Erik van Rooyen and Zander Lombard are one shot behind leader Kisner heading into the second round.