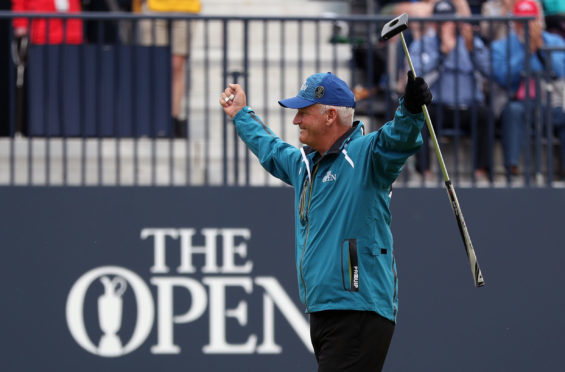 Sandy Lyle admitted he had a 'lump in the throat' after what is likely to be his final appearance at The Open championship.
The 60-year-old, whose automatic exemption as a former winner ends this year, won't be sticking around for the weekend after rounds of 75 and 76 for a nine-over total.
But Lyle, afforded the honour of hitting the opening shot of the championship, signed off in style by sinking a 20-foot birdie putt at the last before pretending to wipe tears away from his eyes with a handkerchief.
The 1985 champion, who has played in 42 consecutive Opens, received a warm reception from the galleries as he walked down the closing hole.
He said: "I was on cloud nine walking down the 18th. It's quite a spectacular view to come down there.
"I managed to stay away from crying but there was definitely a lump in the throat.
"It was a great way to finish the last three holes by playing them one under.
"I don't believe I finished below par on the last three holes for the past 20 years.
"Other than that, it's been a nice experience in the 40-odd years I have played in the tournament.
"To have the pleasure of hitting the opening tee shot was quite special to me.
"It shows that they care and appreciate what I have done over the years."
Lyle has not given up hope of playing in the major again.
He has an early chance to qualify for a place at Royal Portrush next year if he can win next week's Senior Open at St Andrews.
He added: "If I win next week then I will be back again for more punishment.
"You want to leave the gates open.
"There's always a chance I could play my way back into the tournament. I will try. I won't totally give up.
"In theory, it seems like it's the last Open for me but I have no regrets.
"I have had a good run.
"I would have liked to have beaten Gary Player's record (of 46 Open appearances) but he was able to play in the event until he was 65."