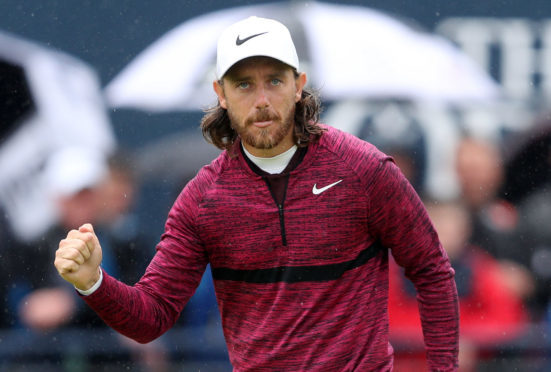 Tommy Fleetwood shot a scintillating 65 at Carnoustie to surge into contention for the Claret Jug and declared the round every bit as satisfying as his course record over the Angus links.
The world number 10, bidding for his first major after finishing second at last month's US Open, carded a hugely impressive six under par round in the tougher, early morning conditions.
The 27-year-old, who opened with a 72, has been on the wrong half of the draw but is only one off the lead heading into the third round of the championship.
Fleetwood, who set a course record 63 at last year's Alfred Dunhill Links, said: "It's no course record but it will do for today. It's close.
"I would say they're on a par with each other.
"It was a spirited effort. Conditions-wise, it was tough and you're in The Open. It was a very strong round of golf and I hit a lot of good shots.
"I'm very pleased having struggled tee to green in the first round.
"It was a good one over par in the end on Thursday even though I bogeyed 16 and 17.
"I had some time on the range last night, came out today and just did a lot better.
"I have put myself back in the tournament and I've just got to try to keep doing the same things."
When asked what winning The Open would mean, Fleetwood said: "It would be very special.
"If I could pick one tournament in my life to win, it would be The Open.
"I've never been anywhere near before but after two rounds, I'm up on the leaderboard.
"It would be amazing to have that in my career whenever I'm done with playing."
Former world number one Rory McIlroy has also moved into a promising position at the halfway stage.
The Northern Irishman, seeking a first major win since 2014, is four under par after two rounds of 69 and feels the best is yet to come.
He said: "I feel like there is a low round in me.
"I felt very comfortable out there. I played within myself. I haven't taken on too much. I don't want to say easy but it's felt comfortable.
"I don't see a ridiculously low score out there but if I can get off to a fast start then I definitely think I am capable of a 66 or a 65."
Visit TheOpen.com for the latest scores from Carnoustie.