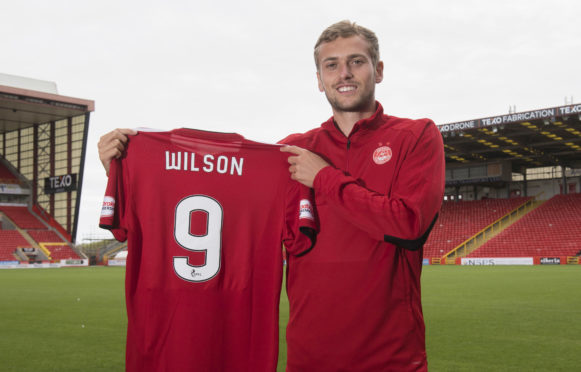 James Wilson labelled his move to Aberdeen as the most important of his career as he looks to prove he can fulfil his potential.
The Manchester United striker joined the Dons on loan yesterday and being in the last year of his contract at Old Trafford, knows it is a make-or-break season.
He burst on to the scene with two goals on his debut for United in 2014, scoring two goals as a substitute against Hull City under Ryan Giggs. He failed to cement a regular place in the team under subsequent managers, however, instead going out on loan to Brighton, Derby County and Sheffield United.
A serious knee injury suffered while at Derby set his career back further and there had been some criticism from his former reserve manager Warren Joyce, who believed Wilson, Adnan Januzaj and Federico Macheda did not continue to put in the work that earned them their opportunities.
He was not assigned a squad number by United for this season and the importance of this loan spell is not lost on the 22-year-old.
Wilson said: "I was working as hard in training after I broke in, if not even harder. I think all that (criticism) is totally irrelevant. It was the game-time, I didn't get enough. I had my injury but was already on loan by that point as well.
"Things didn't work out at United, I didn't get the game time I wanted because that's a big ask at a club like that. I am grateful for the chances I got but I just I had to move on because I wanted to be someone who showed they can play.
"My first loan move was at Brighton, that was a big move because it was the first loan and the first time I moved away from home. Arguably, that was my best spell. I'm not saying I'm trying to replicate it here, but I think it's good for me to be out of my comfort zone.
"I think it's a good thing moving away, joining a new dressing room and experiencing a new environment. My time at Aberdeen will be the biggest move of my career. I have never been in the last year of my contract before so my future depends on what happens here.
"There is an option to give me another contract but with all the big-money signings United have made and how my career has gone, I'd expect to be moving on.
"I am not totally resigned to the fact I'll be leaving but it's highly likely that I need to put myself into the shop window this season. I am out of my comfort zone here, but I see that as a good thing and hopefully the options will come thick and fast at the end of it."