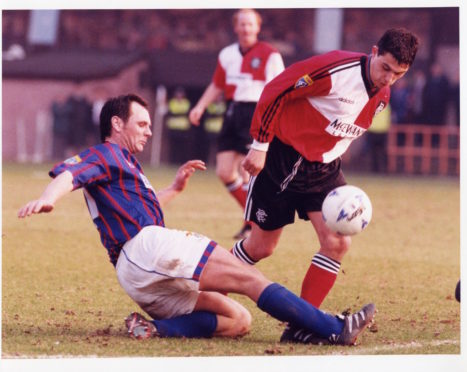 Captain. Leader. Legend.
The latter is a word often overused but in the hearts and minds of those he played with, Alan Hercher was every inch the leading man.
A Beauly native, Hercher was a Highland League stalwart throughout the 1980s, firstly with Ross County but most memorably with Inverness Caledonian.
He netted a penalty in the 2-2 draw with Premier Division side St Johnstone in a 1992 Scottish Cup fourth-round tie, earning a replay for Caley after a memorable afternoon at Telford Street. They had already dumped out Stenhousemuir and Clyde in previous rounds.
He went on to become Caley Thistle's first captain in 1994 following their merger with Inverness Thistle and returned to the Highland League in 1997, with spells at Clach and Brora Rangers.
Hercher's death at the age of 52 last week was a shock his former team-mates struggled to deal with, despite his recent illness. Iain Polworth, part of that Caley side and now Clach manager, admitted to an emotional 24 hours after Hercher's passing.
Polworth said: "We've had minute's silences before but I found last Saturday's particularly hard. I was delighted to get the win for him – he left a lasting impression on and off the park at Clach. It was difficult for fans and committee members alike who had known him. We wanted to do everything we could to respect him.
"He was one you could always rely on to dig you out of a hole, making those late runs into the box. You'd put a cross in and look for a late run from Herchie coming on to the end of it. Nine times out of ten he did. –
"He was a totally different guy off the park. He was a fierce competitor on it – hard as nails – but away from football he was always quiet and family-orientated. He grew up at Beauly and stayed there all his life.
"He was someone who was always there for you and you could always count on him. On the park, if you were needing a goal he was the one you could rely on to get you out of the mire."
As well as the accolade of being Caley Thistle's first captain, he also netted their first league goal, in their first Third Division game against Arbroath. His manager at the time was Sergei Baltacha, who made Hercher his captain.
Baltacha said: "He had the personality you'd love all 11 players to have. He gave 100% and would fight for the boys beside him. He was an honest person and everything you could ask for as a manager.
"He supported me from the first day. I said to him that if he felt something wasn't right, as he represented the players, come back to me straight away. He had a similar personality to me; I never wanted to go behind anyone's back.
"He was reliable player and did a lot of the hard work. I hadn't spoken to him for a long time, since I left Inverness, but it's a big blow to everyone losing a person like that."
A minute's silence was held at Clach and Caley Thistle last weekend, just 24 hours after news of Hercher's passing had been made public.
For Barry Wilson, who won the Third Division alongside Hercher in 1996-97, being in the Inverness dugout was a sombre occasion.
Wilson said: "When I came up he welcomed me in no problem. Being former County, there wwern't too many at the time that had made the change. The bus journeys home from away games, myself, Graeme Bennett, Charlie Christie, Jim Calder – we had a phenomenal team spirit and ran away with the division that year.
"It's tragic the big man has passed, far too young to be taken from us. It's devastating for his family and his football family, too.
"His nature, his wit – he was just a tremendous person."