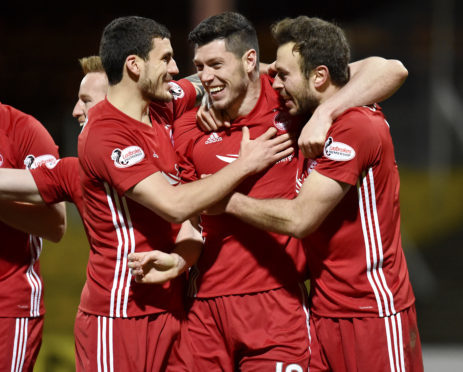 Andrew Considine rates Scott McKenna among the best he has played with during his 15 years with Aberdeen.
Dons legend and League Cup-winning captain Russell Anderson has been the benchmark during Considine's decade-and-a-half in the first team.
McKenna's emergence over the last 12 months, from Ayr United loanee to Scotland captain and multi-million pound defender, threatens Anderson's place atop the list.
Considine said: "Since big Scotty has came in, he's been outstanding. Everything he's touched has turned to gold. That's testament to him. At training, he's always the last one on the park doing extra heading, defensive work. I was more than delighted to see him captain his country, I thought it was fantastic.
"He's started pre-season this season they way he left last year. It's obviously a bit of kick in the teeth pulling his hamstring, but I know that won't hamper him. Regardless of what is happening behind the scenes for him, it doesn't seem affect him on the park either.
"Russell has always been my number one that I've played with. To be fair, when I played alongside Reynolds, he is a fantastic centre-back. I would say that the addition of Mikey Devlin has been a great signing. I would say that he would be up there, almost at number one, for me.
"He's aggressive, he's improved with the ball at his feet as well, and he's quick. The modern player has to be quick. The big man can shift. He deserves everything that he's had so far and long may it continue.
"He's a really grounded guy. He's more than happy to be here. He's said that numerous times. I think with the calibre of team that after him now and he wants to stay here, then he can have another good year, play within and potentially captain the international team again, there's every chance he will have better teams after him.
"He's a young guy with loads to learn. Goodness me, I'm still learning. The world is his oyster at the minute and if he keeps going the way he is, then he'll hopefully play at the highest, highest level."
Developing quality centre-halves is nothing new to Aberdeen. McKenna is following quickly in the footsteps of Considine and Anderson, while figures like Willie Miller, Alex McLeish and Martin Buchan are embedded in the club's history after stellar playing careers that started in the Granite City.
Anderson and Buchan established themselves among the best central defenders in the country before exploring pastures new, while Miller, McLeish and Considine have remained committed to the Dons for the majority of their playing days. McKenna is in no rush to jump ship just yet, which is a refreshing commitment in an age of players being traded with alarming regularity.
Considine said: "Kevin McNaughton left when he was early 20s, Fraser Fyvie to a certain extent because he's come up the road. Jack Grimmer is doing okay at Coventry. There's been a couple who have done well. Ryan Fraser is probably the one that's done the most.
"Scotty knows here that he's got the backing of the manager and will play every week. He's potentially got more of a chance of playing within the Scotland squad and that's vitally important for him. If he keeps it up this year, if he's not gone in this window, he'll be gone this time next year."