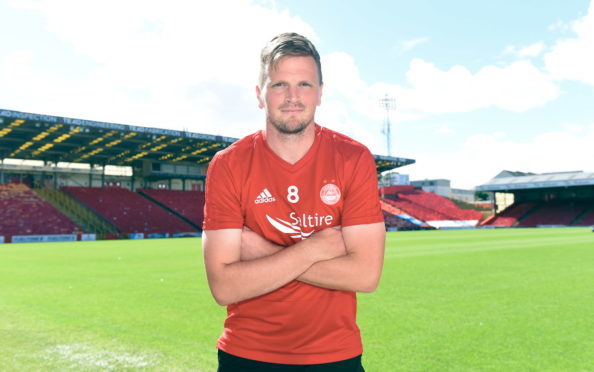 A chance to win silverware early in the season is a huge incentive for Aberdeen midfielder Stephen Gleeson.
The revamp of the Betfred Cup two years ago saw the final brought forward from March to the autumn, with the Dons playing in the final against Celtic in November 2016.
Last year saw them exit in the quarter-finals of the competition against Motherwell, who went on to lose to eventual winners Celtic in the final.
One of the big draws for Irish midfielder Gleeson coming up to Aberdeen was the chance to win silverware, which is a more realistic prospect than being one of the 92 league clubs in England vying for success in their equivalent competition.
Gleeson has little in the way of memorable cup moments, something he intends to put right this season as Aberdeen start their bid for glory in the Betfred Cup at home to St Mirren this afternoon.
He said: "It's a chance to win a cup for everyone still in it. We're no different. We want to go far in this cup and hopefully win it. We're treating this as the Burnley games or as the Rangers or Dundee games. We're treating it exactly the same.
"It's strange, coming in for pre-season and you see the teams already in the cup. I was asking 'why aren't we involved straight away?' It's obviously because we were in Europe but then we come into it and if we win on Saturday we're into the quarter-finals. Down south, you're in the first round and you have to win seven or eight games to get into the final. It's definitely an opportunity. It's a big opportunity for every club.
"If you win a cup in December, it can only spur you on to bigger and better things. It can give you that confidence as well. We're no different and we're definitely looking to go far in this competition.
"I've played in League Cup games and I've played in derbies. We drew Aston Villa when I was at Birmingham – that was massive down south. It was the draw of coming up here: the European games, the cup games. It's definitely something we're looking to go far in and hopefully Saturday is the start of a decent cup run."
Gleeson has been playing catch-up after a pre-season injury against St Johnstone, which thankfully for the 30-year-old was not any serious than a knee knock that would keep him out for less than a fortnight.
He said: "To miss just 10 days after the initial kind of was a kind of blessing. I think at the start we feared the worst. We went to see all the necessary people. To miss just two weeks was kind of a blessing. In a way, I was disappointed not to be involved but looking at the bigger picture I was quite lucky. I'm back up to speed now but I'm just trying to get games under my belt now because I missed a few in pre-season."