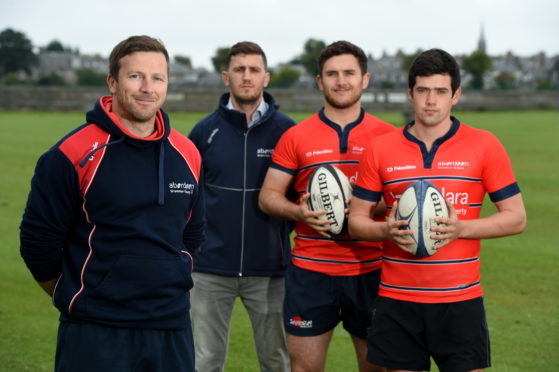 An improved team ethos has Aberdeen Grammar in its best position in years to compete at the top end of Scottish rugby.
That is the view of head coach Ali O'Connor, who has watched a young squad develop over the last few seasons and sees a group ready to step on to the next level.
A seventh-placed finish in National One last year was perhaps below what those at the club were hoping for but the playing squad has been largely kept intact, with only a few new additions.
Doug Russell and Sam Knudson have matured into young leaders in the dressing room and the camaraderie between the first and second teams has fashioned a spirit not seen for many a campaign.
Head coach O'Connor said: "It would be a fair comment to make. Doug and Sam have both mentioned the interaction, how there's no pecking order or division among the players. It's not like the players are kept in the ones or twos, there's free movement of players. There's a stronger team ethos than what there has been in the past. But that's down to us being together for the best part of four years.
"The task is clear. There needs to be an improvement for last year; people talk about setting targets as a form of motivation but my motivation is I've never wanted to lose a game of rugby in my life. It's an interesting time in Scottish rugby but our task is clear: training hard, accumulating as many points as we can over the course of the year and letting the players express themselves.
"We can't be looking elsewhere or too far into the future. If you do that, you take your eye off the ball. We need our best players available, up to speed with the gameplan and be ready to start the league season against Jed in a week's time."
O'Connor's first order of business is to prepare his side for the National League Cup tie away to Ardrossan Accies tomorrow, who play in National Three.
He said: "We expect them to be pretty strong at home and strong up front. In the past we've maybe not dealt well with that – we tend to be a wide, expansive team – but over the summer we've done a lot of work on being more physical.
"With Kirkcaldy joining the league and teams in the league that really thrive on that style of rugby, we've tried to address that. No disrespect to Ardrossan but we'd be disappointed if we didn't come away with a win."
This is the final season of the National setup before the league is rebranded into the Championship, with the start of the Super Six bringing semi-professional franchise rugby to the top tier in Scotland.
There are no franchises north of Stirling County and Grammar have stated in the past financially it did not add up for them to bid for one. However, should circumstances change in the future, O'Connor would like to see them get involved.
He said: "Absolutely. It would be fantastic for the north-east to have a semi-pro setup. There's a keenness in the city for rugby and we have the facilities. The economics have to work and I'm not in a position to go through that, but it would be great to get a pathway to develop players and coaches into that."