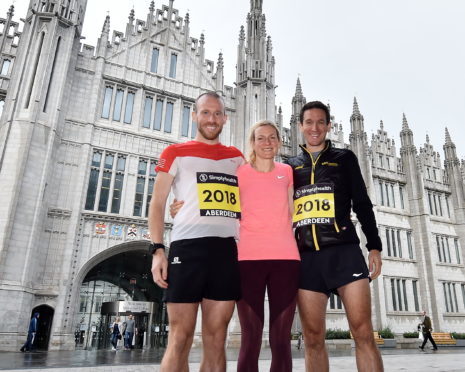 Kyle Greig knows he will have his hands full keeping pace with Kristian Jones in today's Great Aberdeen Run.
Welshman Jones came second in the Inverness half-marathon this year, behind Commonwealth Games bronze-medallist Robbie Simpson, in a personal-best time of 64:58 and will be the man to beat in the Granite City.
Greig, who runs for Metro Aberdeen, came third in last year's race in 71:46 and is preparing for the Chicago marathon later this year. He has done some training runs with Simpson, who won in 2017 but is opting for the 10K this time around.
That will put Jones – one of the leading half-marathon runners in Britain this year – as the man to catch.
Greig said: "It'll take a lot for me to beat him. A good result would be second but you never know what can happen in these races. I have to be realistic though that he's likely to be on fire on the day.
"I've been doing a lot of ultra running this year and I've been building in some speed work. I'm feeling good – perhaps not as quick as my best but I'll certainly be hoping for a good performance building on last year. My training has been geared more towards endurance this year and I've been doing a lot of hill work, which will help with this event as it's quite undulating. I'm doing the Chicago marathon in October, so it's good preparation for that as well.
"I was running with Robbie Simpson on Wednesday and he's got a little bit more speed than me at the moment – thankfully he's doing the 10K. Robbie has been away for some time and it's only once or twice I've been able to run with these kinds of guys. But it does spur you in your own sessions and stands in you in good stead."
Greig's personal-best for the half-marathon came in 2013 while running for Forres Harriers, recording a time of 68:52 in the Great Scottish Run in Glasgow. He has fond memories of last year's contest and believes its location should prompt a bumper crowd.
He said: "The atmosphere was fantastic for us last year. It was a warm day and that enticed the city to come out and support the event. Having the event start on Union Street is fantastic – the last major event on there was probably a New Year's Eve party about ten years ago. Having like-minded people come together, from all different backgrounds and some people that maybe have just started running, with all their families there to support them, makes for a great atmosphere.
"There's about a mile at the end where because it's downhill, you're going quite fast. You feel like a superstar. It's by no means the slowest course but I would class it as undulating. There's an element of flat along the promenade but then Union Street is on a hill. It's a testing course but there's scope for getting fast times."
Metro Aberdeen captain Tom Brian wants his team-mates to be best of the rest.
Brian expects Jones and Greig to be at the head of the field but behind those two, the competition is open for some of the top places.
An eighth-placed finish last year for Brian is something he wants to build on and an impressive entry from club runners has given him heart.
He said: "As men's captain, knowing we've got a lot of the club running is really good. It's quite motivating – there's quite a bit of competition within the club. Kyle (Greig) should be head and shoulders above the rest but you've also got myself, Jason Kelly and Stuart Milne running, guys that are of similar abilities.
"I would like to go under 75 minutes. Kris Jones and Kyle are on a different level but beyond that there's an opportunity for club guys to be best of the rest.
"As a route it's one of the best. It takes in a lot of nice parts of Aberdeen and while it's challenging, you start and finish in the same place. I really enjoy it and it's one of my favourite on the circuit.
"You come through the city three times – you start on Union Street, you come back through the city again past Her Majesty's Theatre, which is my favourite part, and across the bridge, where you get a huge amount of support and it's a nice wee lift two miles before the end. The Union Street finish is amazing – running down a closed Union Street is brilliant."
His wife Fiona, last year's 10K winner, was due to defend her title but has been forced to pull out through injury.