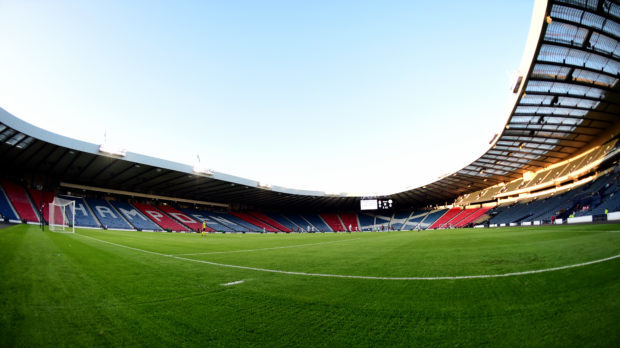 Former Scotland manager Craig Brown believes retaining
Hampden as the national stadium would be a positive – if significant upgrades are made.
The Scottish FA is expected to announce today if it will keep internationals and
domestic cup finals at Hampden Park in Glasgow or relocate to Murrayfield in Edinburgh.
The governing body's lease on the stadium, from League 2 side Queen's Park, runs out in 2020 and the Scottish Rugby Union made its bid for Murrayfield to become the game's new home in April.
SRU chief operating officer Dominic McKay believes Murrayfield could generate £2 million extra income over Hampden due to its 67,000 capacity.
Brown, who spent 16 years working for the SFA as under-21 and national team manager, admits to a bias towards the Mount Florida site because he was raised in the west of Scotland.
However, fond memories of special nights at Hampden persuade him that it is the place to be for the home of Scottish football, even if it is not perfect.
He said: "I strongly advocate staying there but make massive improvements. I would like to see the two ends brought in to bring them closer to the goal. You've also got the best artificial surface in the country there at Lesser Hampden.
"I'm old-fashioned – I always thought Glasgow was the football city and Edinburgh was the rugby one. But if you're brought up in the west of Scotland, you're a Hampden man.
"There's been some fantastic nights at Hampden and I'm sure there will be again. I
remember Joe Jordan's goal against Czechoslovakia, Eintracht Frankfurt against Real Madrid, Alan Gilzean scoring against England. More recently, you've had the two goals Leigh Griffiths scored against England. I was at the game and it felt like the football landscape in Scotland was transformed.
"One selfish memory would be the 1989 World Youth Cup final, where we played Saudi Arabia, and the place was packed. It was more of a family audience but they showed great commitment to Scotland. It was a World Cup final involving Scotland in Scotland. It's never been done before or since."
Murrayfield is the home of Scottish rugby and hosted four Hearts games last season when Tynecastle was being redeveloped. Celtic also used the stadium for Champions League qualifiers in 2014 during the Glasgow Commonwealth Games.
Brown did not receive positive reports from Aberdeen fans who attended their game with the Jam Tarts in the capital last September.
Brown said: "I can see reasons for it – the facilities within the main stand are well-maintained and the dressing rooms are very good.
"When Aberdeen played Hearts there last season, our supporters complained how far away they were from the action. There's a big grass area behind the goal and a gently-sloping terrace, where they put the visiting fans.
"Access is not great at Hampden but it isn't at Murrayfield, either. I don't think the atmosphere would be as good as the fans are so far back.
"It wouldn't be a disaster for Scottish football as we would survive no matter where we play. But Hampden is our traditional spiritual home and it should be improved and maintained. To leave it would personally be disappointing."