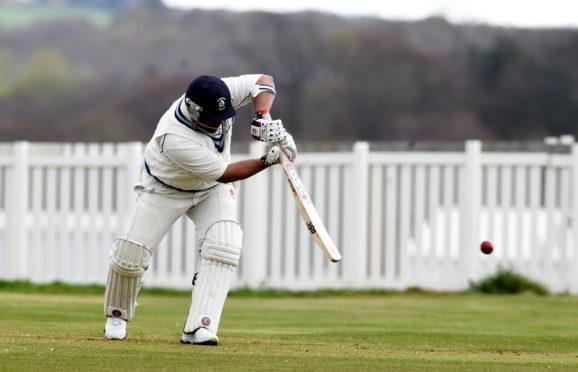 Missing out on promotion last year was a blessing in disguise for Stoneywood Dyce as they are now better equipped to return to the Eastern Premiership.
The play-off against Kelso tomorrow at Freuchie presents them with the opportunity to return to the top flight after a two-year absence, something which experienced spinner George Ninan feels they are well-placed to do after 12 months more experience under their belt.
Disappointment in last year's game came in the form of a humbling defeat against Corstorphine, from the East of Scotland Championship, where Stoneywood Dyce were bowled out for just 28.
Promotion was always the target for this season and even though they came second in the North-East Championship, Falkland opting not to seek promotion handed them a reprieve. Kelso are in a similar boat, coming runners-up to Mazars Grange's seconds and taking the play-off berth due to Grange's firsts already winning the Eastern Premier Division.
With an extra year in the second tier enabling their younger players to play more competitive cricket, Ninan reckons as a team they will be able to handle the step up back to the Premier Division.
He said: "There were a lot of guys who were disappointed on a personal level after last year. We only lost one game all season and won the league; we wanted to go straight back up. Hindsight is a luxury we don't have but it's worked to our advantage. We have guys like Jamie King, Dave Kidd, Ewan Davidson, Stuart Lister and Ross Kennard who were still learning their craft last year. But they've come a long way.
"They have matured as individuals and as players and are a lot more ready for National league. We aren't adding ant pressure to ourselves as we've prepared right through season with the mentality that every game is like a play-off game, after last year's disappointment. We've had a good number of juniors contributing, our overseas players Liam (Lindsay) and Josh (Newton) have done well and senior players like myself and Jan (Stander) have contributed too."
Ninan would see promotion as beneficial not just to the People's Park side, but to cricket in Aberdeen as a whole.
He added: "It's good to have two teams from the north in the National league. It ensures a pathway for players around Aberdeen and we would like to be in the Premier Division alongside the big sides. We've always produced players of a national calibre and we can use promotion to keep feeding that pipeline.
"Kelso have done well in their league and it will be an equally important game to them. It will do a lot of good for either club to get promoted and they will be hungry for it."