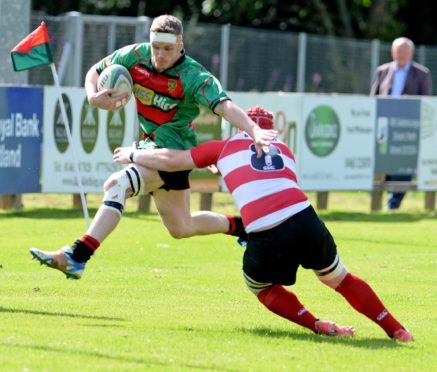 Highland head coach Davie Carson believes away form will be just as important as his side's record at Canal Park in National 2 this term.
The Inverness men are undefeated in nearly 12 months in the league, since a National 3 loss away to St Boswells on October 21 last year. Their last home loss came seven days prior to that against Ardrossan Academicals.
Newly-promoted Highland got their campaign off to a flying start with a 37-13 home win against Preston Lodge last weekend but Carson expects his side to be just as competitive tomorrow away to Falkirk, who suffered relegation from National 1 last season.
Carson said: "Last year we got to the stage where we just played every game, home or away, and still got the result. We are trying to emphasise that it's just another bit of grass.
"Falkirk have been used to playing at another level beyond this, so it's going to be tough away from home.
"We certainly want some sort of performance and we are very much going there looking to pick up points. We have a good bit of depth this year – we are certainly going to need it.
"We will be without Andrew Findlater, who has a neck injury, and Steven Rutledge, who has a hamstring problem, but we are able to calll on Sean Blair and Mike Gordon as replacement.
"We have guys in the seconds who have played a lot of games for the firsts but playing every week means they are ready to step up if we need them to."
Although full of praise for his side's attacking display last weekend, Carson insists Highland's defensive strength was just as impressive, adding: "Attack-wise Craig Findlater played one of his best games, picking up two tries. We had some great scores including two from our own half, we had really good pace and width.
"We also had to defend well to keep Preston Lodge out when they were banging on the door just before half-time.
"We were stuck on our own line for more than five minutes at one stage but they couldn't get it over the line and we went up and got another score before half-time.
"These are big events in games."