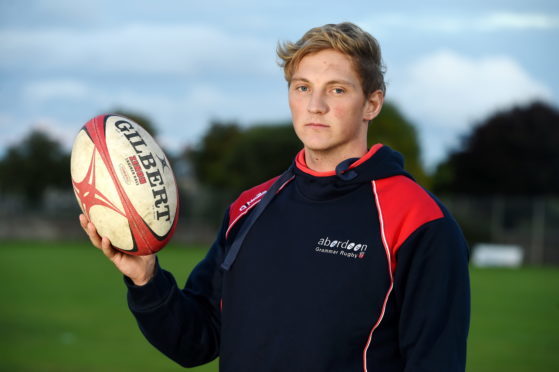 A nine-month lay-off with a serious neck injury has given Aberdeen Grammar's Chris Jollands renewed vigour for rugby.
Surgery on a fractured disc in his neck just before Christmas kept him out long-term, missing the second half of the last campaign and making his comeback all the sweeter.
Following an away game against Stewart's Melville in October last year, he realised what he thought was a routine shoulder injury was anything but. Referral for an MRI revealed the extent of the damage and surgery was the only option.
The former Scotland under-19 international knows he is lucky to come through a substantial procedure but after bagging two tries last weekend against Musselburgh, he feels a replenished excitement for the game.
Jollands said: "I'm really happy to be back playing again; I feel fitter and stronger after my time off and I'm quite excited for the season. One of the discs in my neck had fractured into three (pieces) and I had surgery around Christmas to replace it.
"People get quite afraid when you talk about the neck and it's a bit scary having the MRI. But once I had the surgery and spoke with the doctors and physios, I was confident I would be fine. I'm very lucky – recovery is actually quicker than a torn cruciate ligament or a pulled hamstring, as it's basically bone-grafting.
"I can't remember exactly when it happened but I knew it was playing rugby. I lost strength in my arms and had pins and needles constantly. I thought it was a routine shoulder injury but it was a little bit more than that.
"The time off allowed me to come back stronger and has given me a fresh boost. I don't feel any effects of it now. Waking up with sore shoulders and a stiff neck is routine for rugby players without the injury. I go into games not worrying about it because if you do, it will hinder your performance."
The forward was picked out in pre-season by head coach Ali O'Connor as one to have a big year and Jollands is setting even bigger targets for his Grammar team-mates.
Ahead of tomorrow's home against Kirkcaldy, he added: "A lot of the team are aiming for the top four but I think we should aim for top spot. If you fall short, then you're still up there. If you fall short of the top four, then you could miss the top six. We're one of the top seeds in the cup as well and should be aiming to win some silverware.
"We have to take it game by game. We might be near the top of the league now but by December you could be fighting against relegation."