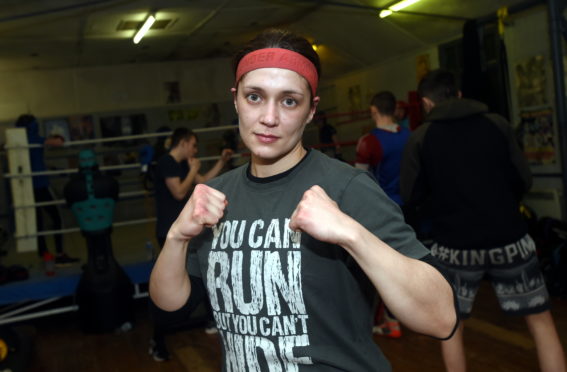 Aberdeen's Kristen Fraser hopes to create history this weekend by becoming the first Scottish female boxer to win the Commonwealth bantamweight title.
The 30-year-old, who has won all five of her pro bouts, takes on Malawian boxer Ellen Simwaka for the vacant belt at the city's Doubletree Hilton on Saturday.
Fraser said: "This is definitely the biggest fight of my career so far.
"It is a Commonwealth title fight so this is a really important period in my career.
"Everything that has come before, both as an amateur and a professional, has been building to this point.
"It is also, hopefully, a stepping stone to bigger things."
Glaswegian Hannah Rankin failed in her bid to become the first Scot to win a world title when she lost on points to Claressa Shields in Kansas last weekend.
Fraser hopes she will get the chance to end the country's wait for a female world champion in the future but knows winning a Commonwealth title on Saturday would be a major step towards turning that dream into a reality.
She said: "Hannah took a title opportunity against one of the best boxers in the world.
"I would rather plan my way to the top rather than jump in too soon.
"I'm not going to jump into something until I am ready for it.
"But I already have a lot of achievements and a lot of experience.
"And when I go for a world title, I will be taking it home.
"I'm not looking for opportunities to learn, I'm looking for opportunities to get my hands on titles.
"A world title is what we are working towards – 100 per cent."
Fraser heads into the fight in optimistic mood after recording the first stoppage of her career on her last outing when she came up against Rozmari Silynova in Paisley last month.
She added: "I am feeling confident.
"I have come up against lots of different styles of opponents.
"My last opponent was a southpaw which was unusual but being able to stop her gave me a good confidence boost.
"I felt in my last fight in Aberdeen (a points victory against Dominika Novotna) I was really able to show my power and dominance in the ring.
"My boxing has become more aggressive and I am showing I am the stronger person in the ring.
"I have been doing a lot of strength and conditioning which is really improving my power."
On a packed undercard, Macduff's Billy Stuart takes on Ukrainian Dmytro Kostenko in a super-bantamweight contest and Elgin boxer Andrew Smart makes his pro debut against Simas Volosinas.
Livingston-based Elaine Greenan fights Vaida Masiokaite, while Aberdeen light heavyweight Boris Crighton faces Pole Michal Ciach in his second pro fight.