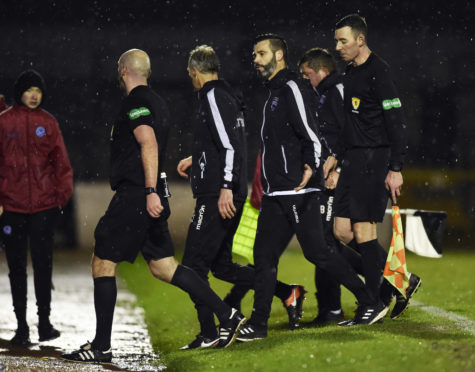 Ross County are awaiting news of whether co-manager Steven Ferguson will face a touchline ban from the SFA after he was sent to the stand during Saturday's 3-3 Championship draw against Ayr United.
Ferguson was ordered off by referee Bobby Madden following Ayr's third goal shortly before half time, after raising concern about defender Keith Watson who was left grounded after being hit in the face by the ball in the build up to Andy Geggan's goal.
Fellow co-manager Stuart Kettlewell confirmed the Staggies have received no explanation from Madden as to the reason for Ferguson's dismissal, with County hoping he will face no retrospective action.
Kettlewell said: "We felt a bit aggrieved with Steven Ferguson getting sent to the stand. Steven can speak for himself, but we can't get an answer as to why he was sent to the stand. He did not swear at the referee or linesman, he didn't say anything untoward.
"He was making the case that Keith Watson was down and motionless and they never stopped the game.
"But I'm standing there and there was nothing derogatory towards the linesman or referee. We were asking the question why hadn't they stopped the game.
"This will all get lost in it, again, and he could end up with a touchline ban.
"But I can genuinely say there was no specific reason for it. We just need to wait and see what happens."
Although Watson was able to continue following his knock, which was a result of him blocking Liam Smith's shot, Kettlewell felt quicker action was required from Madden to ensure the safety of the 29-year-old.
Kettlewell added: "We've a few bug-bears off the back of Saturday in terms of decision-making but player safety is massive.
"What springs into my mind was the condition of Gary Mackay-Steven in the League Cup final against Celtic.
"The game is stopped immediately and you have to make sure when it comes to head injuries, so we're told.
"It doesn't matter that Keith Watson has been really brave to put his head there to block the ball.
"Ultimately, it doesn't matter if it is a kick, an elbow or a ball to the head, if you're lying there motionless for a period of time, the game stops – it's as simple as that.
"Keith was OK. The physio seemed to think he had a mild concussion, but he's fine. It isn't the outcome, though, it was the fact he was motionless on the ground."