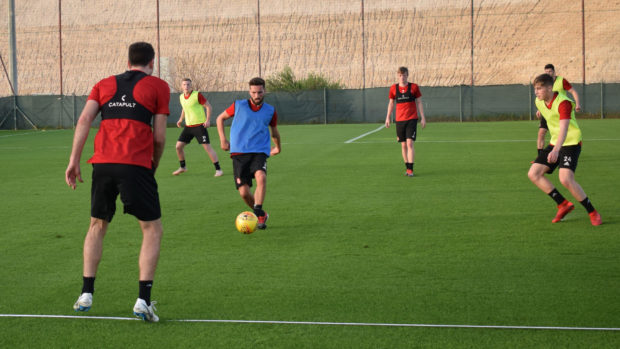 He has felt the strain like no other time in his career but Aberdeen captain Graeme Shinnie knows there will be no let-up as the Dons step up their preparations for the second half of the season in Dubai.
The Dons skipper has emerged as the driving force of his team and his attitude and work rate was rewarded with Scotland recognition in 2018.
Shinnie has been a victim of his own success in many ways with the increased football duties ensuring the chance to rest and recover have been preciously few and far between.
From a summer trip to South America in the dark blue of Scotland to an early start for the Europa League double-header against Burnley, not to mention further international commitments, it is no surprise the Dons captain took the chance to head off for a sunshine break last week.
But that short break is now over with Shinnie and the rest of his Dons teammates being put through their paces in their mid-season training camp at the Jebel Ali Centre of Excellence.
He said: "It's been a demanding season with the lack of rest in the summer due to being away with the national team. It's something I love. I want to be involved with everything.
"It's definitely been the most gruelling spell of my career, but it's been one of the most rewarding. I've managed to get my first cap for Scotland, got married then it was straight back to football."
One big push through December has pushed Derek McInnes's side back into a more familiar league position as they headed into the winter break fourth in the Premiership, three points behind leaders Celtic.
Shinnie knows last month was crucial for his club and he believes six wins in eight league games represents a major step in the right direction at Pittodrie.
Now the challenge is to keep it going in 2019.
He said: "It's been an up and down season but we all knew that coming into December, with the sheer amount of games and having so many at home, that it would be important to win as many as we could.
"We knew that would pick us right up the league and we've managed to put ourselves back in a good position. There's a big second half of the season to go now.
"It's been tough and demanding, you can see that from the injuries we have had – fatigue and muscle issues – and we have had to deal with that, whether changing formations or personnel.
"But our run has given us the platform to climb back up the league and we've used it to win games and get back to where we want to be. So, it may have been demanding but it has also been rewarding."