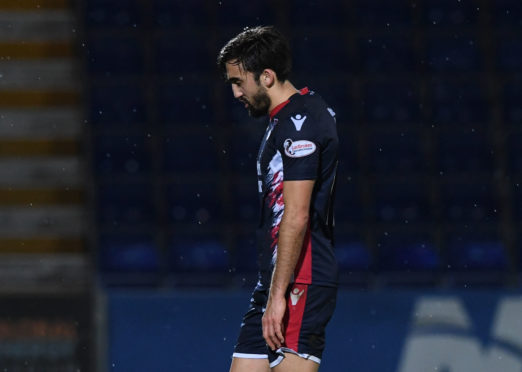 Ross County co-manager Stuart Kettlewell has accused Cypriot defender Stelios Demetriou of misleading the Staggies in securing a move to English League 2 club Macclesfield Town.
Demetriou joined Sol Campbell's side on Monday, despite claiming his fiancee was keen to move back to Cyprus having failed to settle in the Highlands when he negotiated his release from Victoria Park at the weekend.
After County granted the former St Mirren player his wish of having his contract cancelled in order to pave the way for a move to his homeland, Kettlewell has been left disappointed to see Demetriou appear at the Cheshire outfit.
Kettlewell said: "It has been a bit of a strange one. Stelios approached us on Thursday last week and told us there was a problem with his fiancee. She wanted to move back to Cyprus as she hadn't settled in the area.
"From myself and Steven Ferguson's point of view, if we have any indication a player hasn't settled or there is a family problem, that becomes the priority.
"We agreed to cancel his contract but had no intention of doing so until the player approached us and said his fiancee desperately wanted to move back to Cyprus.
"We can all see now that Stelios has popped up at Macclesfield. I don't think it looks particularly great on Stelios and how he put it across to ourselves and his former team-mates.
"These are guys who probably showed him a lot of respect.
"We've got to do the right thing by the football club, always, and only want players here who want to play for this club and achieve something here.
"If not, they don't have a place here – it's as simple as that."
Kettlewell insists he and fellow co-manager Steven Ferguson pride themselves in their open dialogue with players, adding: "We understand people might be interested in our players and, in a couple of scenarios in this window, there have been inquiries.
"Steven and I ask the players themselves – saying there's an interest but we desperately want to keep them – and in the two examples it has been a resounding answer that they have had no interest whatsoever.
"From a manager's perspective, that's all we can ask for. What we don't want is people at this club who are not committed. With our location, it doesn't work unless you want to be here.
"It is a brilliant place to be – and a very good place to be right now, with three competitions in our sights.
"I think it is important people know what happened because questions can be asked about why we got rid of the player.
"But I also believe the supporters wouldn't want a player in their team who doesn't want to be here. They would have a lack of respect for myself and Steven for pitching someone out there in those circumstances, someone they pay their hard-earned money to come and watch."