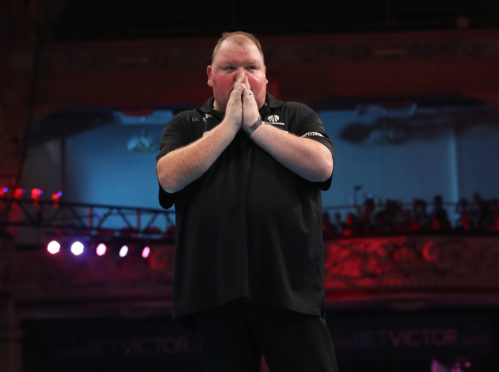 Huntly's John Henderson is determined to enjoy every minute of his unexpected Premier League Darts appearance in Aberdeen tomorrow night – even if he is braced for a Michael van Gerwen backlash.
The tournament's format was amended following the withdrawal of Gary Anderson due to a back injury with the PDC inviting nine contenders to replace the two-time world champion across the opening nine league nights.
It was supposed to be a titanic tussle between van Gerwen and Anderson at the BHGE Arena but instead Henderson will bid to defy the odds in front of a home crowd and defeat the world number one.
Henderson said: "It is unfortunate for Gary Anderson that he wasn't able to play.
"I thought they were just going to add in someone like Simon Whitlock or one of the other players next in line on the rankings.
"But I got the call from my manager saying Sky and the PDC were trying something different.
"I couldn't believe it when I got the call.
"But the contenders idea has given the tournament something different and for the viewers it means it is not the same players all the time.
"So far it has worked as the contenders have all played quite well and hopefully I can continue that on Thursday night.
"I know it is just for one night but I'm going to enjoy the whole experience.
"Hopefully I can do well.
"The walk-on in front of so many screaming Aberdonians is going to be special.
"I'm not feeling nervous at the moment but I'm sure by the time I get in the taxi to the exhibition centre, I'm sure the nerves will kick in."
Henderson is expecting van Gerwen to be extra motivated for the match after suffering his first defeat in this year's Premier League after losing 7-3 against James Wade in Exeter last week.
He added: "I have got nothing to lose against Michael.
"Everybody will be expecting him to win 7-0 or 7-1.
"Every leg I take will be a bonus.
"I have played Michael on television before and won the game.
"Even when Michael doesn't play well, he still averages around 100.
"He will be on a mission to put things right after losing last week in the Premier League and then going out early in the UK Open.
"Hopefully I don't get the backlash of that.
"It is a one-off game and anything can happen.
"With it being the fifth and final game of the night, it is going to be noisy.
"I have been to the Premier League before and watched Gary Anderson's walk-on and the noise levels were unbelievable.
"That walk on to the stage is going to be special and hopefully I can put on a show."