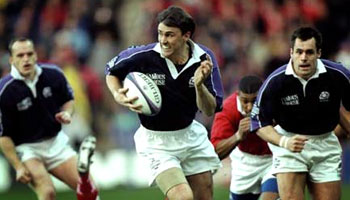 It happened so quickly that many fans were still taking their seats in advance of the Scotland v Wales match in 1999.
But, straight from the kick-off, the home centre, John Leslie, plucked the ball out of the air and put the hosts in front with a try after just 10 seconds of the Five Nations Championship contest at Murrayfield in 1999.
Scottish supporters would love a similar start and finish – Jim Telfer's men won 33-20 – when the two sides square up in Edinburgh on Saturday afternoon, with the visitors chasing a Grand Slam after three successive victories in this year's event.
The Kiwi-born brothers, John and Martin, had qualified to wear the Saltire thanks to a Scottish grandfather, and both made a significant impact as the SRU's finest won the last-ever tournament, prior to the introduction of Italy.
Their legendary coach, Jim Telfer, said: "You can't get a better start than that.
"It's so important in international rugby to get ahead of the game. Wales were dangerous early on, but very predictable towards the end.
Leslie gave Telfer's team an immediate lead when he snatched the ball right from the grasp of another New Zealander, Shane Howarth.
He said later: "It was just one of those things where the ball fell into my lap and all I had to do was keep running over the line."
Scotland triumphed in the competition with a 36-22 win in Paris, followed by a last-minute try for Wales' Scott Gibbs against England on a dramatic climactic weekend in the final Five Nations.