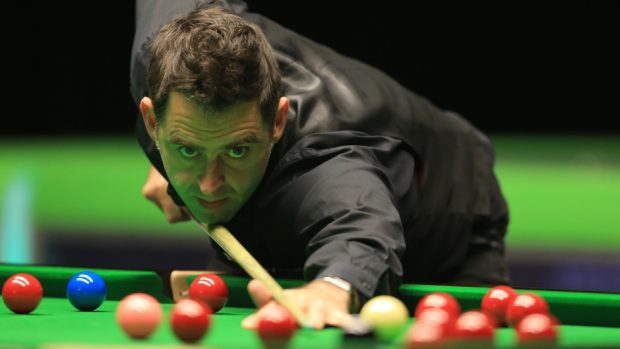 Let me take you back to 1992 and a visit to the Norbreck Castle Hotel in Blackpool.
The plan was to meet up with a rising star of snooker, discuss his plans to turn professional and discuss the grand predictions which were being made for his future.
In normal circumstances, it would have been a straightforward assignment, but the youngster in question was Ronnie O'Sullivan and I've never forgotten the fashion in which he reacted to our meeting.
Nor, to be fair, has he. A decade later, when we rubbed shoulders again in Edinburgh, he recalled how his life had been transformed forever with the imprisonment of his father, Ronnie, snr, for murder.
He said: "Oh yeah, things were going crazy by that stage. I spent three and a half months in Blackpool and I was really excited because I had qualified for the 1993 World Championship, but within the next few days, when I returned to London, it all collapsed around my ears when dad was found guilty and the judge sentenced him to life, with a minimum recommendation of 18 years. It crushed me!"
More than quarter of a century later, the Rocket's achievements have become the stuff of legend and, last week, O'Sullivan returned to the summit of the global rankings for the first time since 2010.
It's a testament to his resilience, his determination and, above all, his prodigious talent with a cue in either hand, and while some of the game's purists occasionally shudder at his eccentric or idiosyncratic behaviour, he is to the green baize what Lionel Messi, Tiger Woods and Virat Kohli are to football, golf and cricket.
In the entertainment stakes, few feats anywhere else in sport have ever surpassed the unfettered brilliance displayed by O'Sullivan during his magical maximum break of 147 at the Crucible in 1997 when he cleared up all the balls in just over five minutes.
Those of us lucky enough to be in Sheffield were left rubbing our eyes in disbelief. Yes, the record books might tell us that Stephen Hendry and Steve Davis have been kings of the world more than the Rocket, but neither have produced the sustained potting pyrotechnics or box-office brilliance which O'Sullivan brings to the game.
The Crucible action commences again later this month and, once again, even at 43, he will be among the favourites, alongside Neil Robertson and Judd Trump. I know he has his critics who argue he should play more events, and detractors who mock his moaning about the lack of personalities who frequent the modern circuit.
Yet it's remarkable that O'Sullivan is continuing to dazzle and destroy opponents. He once remarked: "I was taught to say nothing to the cops. To keep schtum. When the police came to my school to talk to the pupils about road safety or something, one officer asked me my name and I replied 'No comment'.
"Then, when my mum kicked me out of the house, I would go to fast food restaurants and order three hamburgers, two large fries, a giant chocolate milkshake, nine McNuggets, four ketchups, three barbecue sauces…and a Diet Coke.
"My weight ballooned to 16 stone, 17 stone, and I had no discipline. Then I met David Beckham at a club and had my eyes opened to what a whale I had become. As we left the place, I heard this lass tell her mate: 'Look, there's Beckham.
"Her pal responded: 'What one? The fat one or the skinny one?'
"And I thought: 'I must be fat. And I was – I was really enormous and it was exactly the boot up the backside which I needed."
Nothing has come easy to O'Sullivan except knocking reds and blacks into pockets at a rate of knots. His contribution to snooker is immense.
And he isn't finished yet.