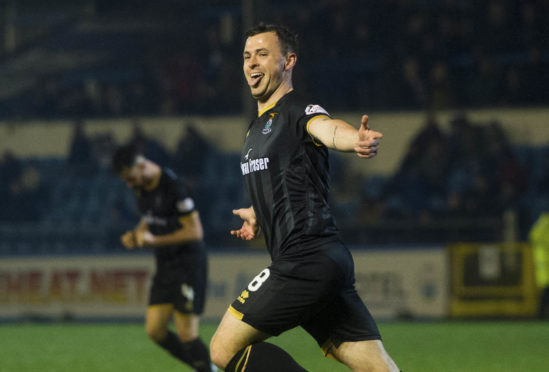 Darren McCauley hopes he has found his feet with Caley Thistle just in time for the Highlanders' promotion play-off bid.
McCauley joined Inverness from Northern Irish side Coleraine on a two-year deal in January, ending a four-year stint with the Danske Bank Premiership outfit.
With McCauley having played the majority of his career in part-time football thus far, Caley Jags manager John Robertson indicated he would take time in easing the 27-year-old into the side.
All but one of McCauley's 13 appearances have come from the bench but after coming on to rescue a late point in Tuesday's 2-2 draw with Morton, the former Derry City and Celtic player hopes he can kick start a strong run of form.
McCauley said: "It has gone all right. It is always going to be difficult to start off with.
"I'm just like any new player who comes in in the middle of the season. I'm starting from scratch, so I just have to give it my all and hope the chance can come.
"Thankfully that did on Tuesday and I took it. It was a good moment for myself and the team.
"I'm happy I could contribute, because I haven't played much. It's good to help the team out.
"Hopefully that can consolidate our play-off place."
McCauley signed a two-and-a-half year deal at Caledonian Stadium, but he is currently combining his football career with the latter stages of a Nutrition degree at Ulster University.
McCauley hopes his upcoming exams will have minimal impact on his performances for the Highlanders, adding: "I have two finals in May. I'm hoping to do them at the university at Inverness.
"Hopefully that can happen – I'm sure it can – as it will mean I won't have to go back and forth any more.
"I need to focus a bit on that but focus more on football."
McCauley's goal leaves Inverness on the brink of securing a top-four spot, with Caley Jags nine points ahead of fifth-placed Dunfermline with only three matches left.
McCauley hopes his side can seal a play-off place in style, adding: "We are in a good position now. The boys were saying last year they just missed out on the play-offs, so it shows the club is progressing. It's a step up from last year.
"I know mathematically there's still a little bit to do to secure it, but hopefully the point can help to take us there.
"I think momentum is the key word. We will try to put in a good performance against Dundee United.
"We have a bit of a cushion against Dunfermline, which is obviously nice.
"But Dundee United are a good team. They have strength in depth, they are a big club with resources.
"We will definitely not be taking them lightly. Hopefully we can put in a good performance and get a result."