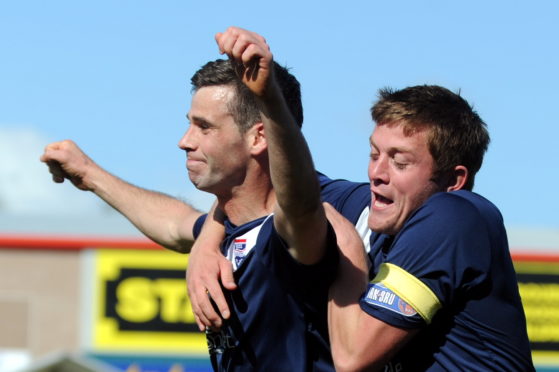 Ross County co-manager Stuart Kettlewell will return to Somerset Park tonight aiming to replicate the euphoria of his title triumph as a player with the Staggies.
Kettlewell was part of Derek Adams' side which won the First Division title in 2012, with tonight's venue the scene of the Staggies' celebrations in their first game after being confirmed as champions.
The 34-year-old is now at the helm along with fellow co-manager Steven Ferguson, and looking to secure the victory which would all but clinch the title, given the Dingwall side's 18-goal advantage over Dundee United, who are six points adrift with three matches remaining.
Kettlewell said: "We know nothing will mathematically be finished no matter what the outcome is.
"It's a great opportunity to put ourselves in as good a position as we can be in at this time – that's the simple fact.
"I don't want to be drawn too much on what has happened in the past, but it's probably one of the best nights in a fairly modest playing career.
"I was fortunate enough to have a lot of success as a player at this football club and others. We were probably punching well above our weight with teams I was involved in.
"For me that was one of the pinnacles. That was one of the pinnacles, but I have been stressing all along I want to be a part of something else.
"I want this group of players to write their own chapter in this club's history.
"When myself and Steven took charge of the club that was not the start of Ross County. There have been so many successes along the way where you start to thread in the cup competitions, promotion to the top-flight, top five and six finishes – you name it.
"In a short period of time in the professional leagues there has been a lot achieved at this club.
"Some of these players have been a part of it in the past, but we want them to go and try to create their own memories and talking points."
Ayr need just a point to clinch a play-off place and Kettlewell expects a difficult task against Ian McCall's side.
He added: "I think they will want to continue the show they have put on all season. There is no thought they may roll over for us, or this is just a seeing out process until they potentially get to the play-offs.
"Professional pride always comes into it. We are not expecting favours from anybody else."
Kettlewell is hopeful defender Liam Fontaine and Iain Vigurs will return prior to the end of the season following long-term injuries, adding: "Liam got into the squad last week, which was a massive boost for everybody. Not just the football club, but for Liam himself.
"He's short of match practice, so we have got that earmarked for next week to get him involved in a reserve game.
"Iain Vigurs has also had a couple of really good days' training and looks as if he's heading in the right direction.
"He's also lacking in match practice but he's certainly pushing himself closer towards our group."