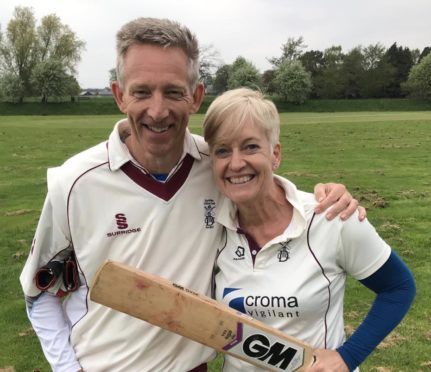 Sue Strachan has been in love with cricket for as long as she can remember and possesses the sort of infectious enthusiasm which will serve her well when she becomes the first-ever female president of Cricket Scotland next year.
The woman who studied medicine at Aberdeen University met her husband, Dave, in the Granite City and is familiar with clubs such as Gordonians, Stoneywood-Dyce and Aberdeenshire, from her days in the north east.
Even now, although she lives and works as a doctor in Dumfries, she recalls the days when she used to listen to Ashes series on her "little transistor set" in the middle of the night and was captivated by the action on the other side of the world.
Mrs Strachan has been equally enthralled by Scotland's recent victories over such opponents as England and Afghanistan on the ODI circuit and is determined not to squander the momentum generated by Kyle Coetzer's team.
She said yesterday: "It is a really exciting time for cricket in Scotland. We have so many different forms of the game on offer and lots of clubs really trying to deliver modern forms of the game whilst also continuing the traditional weekend matches as well.
"There is a form of cricket for you, no matter your age, gender or ability. For boys and girls, we have AllStars, then Kwik Cricket, then junior cricket and up through the ages.
"We also now have clear performance pathways for both boys and girls to develop their skills to elite level in a safe, fun, supportive environment. The opportunities for young athletes in cricket are fabulous.
"The young are the future of our sport and it is right that we invest in their development and also give all standards of children opportunities to have fun playing outside in a safe environment and learn the lessons that playing as part of a team can teach them."
She will return to Aberdeen later this summer when Mannofield hosts a string of ODIs from August 14 to 21. And she clearly has no intention of settling quietly into her role at the governing body.
She added: "As president elect I have until March 2020 to 'learn the ropes', but I have served on the board for three years now and will increase my involvement gradually over this year.
"During this time, I will also continue in my role as tour manager for the Scotland women's team, The Wildcats and it is a busy year as we try to gain qualification to the 10-team ICC Cricket World Cup.
"We are looking forward to the Global World Cup qualifiers in early September in Scotland as they will be a perfect opportunity for people to see top class women's cricket 'up close and personal'.
"You will also see me popping up in the north east when the internationals are on in August with our men playing against Oman and PNG at Mannofield, so I am going to be very busy.
"If anyone out there is still not sure about cricket as a sport for themselves or their children, why not wander along to your local cricket club and find out what is going on?
"Cricket in Scotland is a modern, growing, dynamic sport. If you have kids, then get them enrolled in one of our great initiatives and watch them develop their skills whilst they play outside – healthy happy children growing into healthy happy adults!"