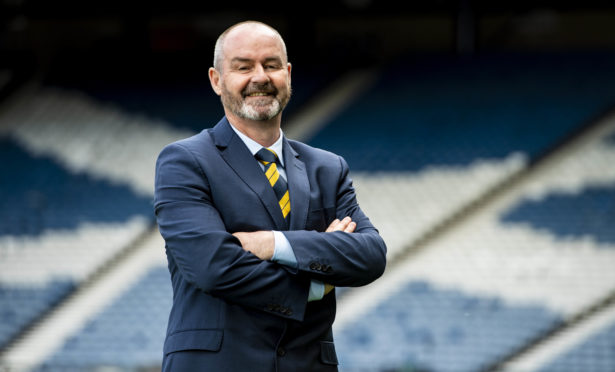 New Scotland manager Steve Clarke is refusing to accept defeat in his efforts to lead the national team to EURO 2020 via the qualifying group.
Former Kilmarnock manager Clarke was yesterday unveiled as the Scots' new boss on a three-year deal, replacing Alex McLeish who was sacked last month following a poor start to the Group I campaign, with a 3-0 loss to Kazakhstan followed by an uninspiring 2-0 win over lowly San Marino in March.
Scotland are guaranteed a spot in the EURO 2020 play-offs next March, when they are scheduled to face Finland.
Clarke insists he will not treat the play-off as a safety net however, as he seeks to reinvigorate the Scots' prospects of automatic qualification in next month's double header against Cyprus and Belgium.
Clarke said: "The play-off has been mentioned a lot. The play-off is for the future. I want to be going to play a friendly next March in preparation for the tournament, not the play-off games. Let's concentrate on the group.
"I want my first XI nailed down for Cyprus on June 8. We have to be ready. On the back of Cyprus we have to be ready to go to Belgium.
"Because of the points we dropped in Kazakhstan we have to gain those points against the top teams in the group, Belgium and Russia. To qualify we have to take points from them."
McLeish's second spell as national team boss was beset with numerous call-offs, with the likes of James McArthur, Matt Ritchie and Robert Snodgrass declaring themselves unavailable.
Clarke is keen to quickly determine who is committed to the national team cause, adding: "It's important to stress if someone has retired from international football we will respect that decision. If they want to un-retire themselves they have to come back to me or someone else at the SFA that they want to be considered.
"Then you have the grey area where some are not quite sure – those are the ones you have to speak to. If they are not committed I would rather they were just honest – whatever stage of their career they are at, whatever reasons they have for not wanting to be involved, then don't come.
"Come if you want to be part of what we are doing. Anyone who comes to the squad now I am expecting them to be fully committed, at least until the end of the qualifying for EURO 2020.
"After that it's the World Cup campaign. But I need players committed to qualifying for this tournament, because that's what I want to do – I want to qualify for this tournament."
Clarke confirmed he is in talks with Killie with a view to making his former assistant Alex Dyer part of his backroom staff, and is keen to have one further coach on board in time for the Cyprus match.