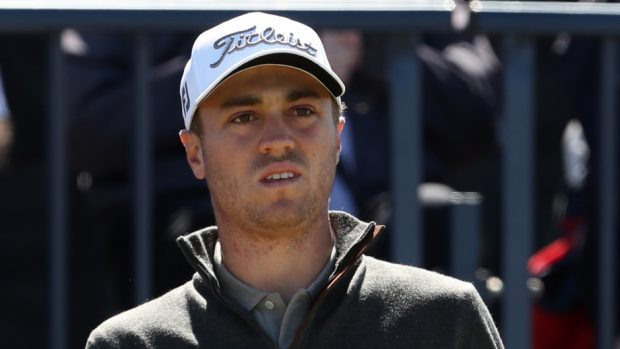 World number six Justin Thomas has become the latest golfing heavyweight to add the Aberdeen Standard Investments Scottish Open to his schedule.
The American joins a stellar field that will assemble in North Berwick for the Rolex Series event on July 11-14 when The Renaissance Club takes over hosting duties.
Northern Irishman Rory McIlroy, the four-time major winner, confirmed he will tee it up as part of his preparations to win the Claret Jug on home soil a week later when Royal Portrush hosts The Open.
Inverness' Russell Knox, 2016 Open champion Henrik Stenson, American Matt Kuchar, defending champion Brandon Stone and former world number one Lee Westwood are also in the field for this year's event.
Six of the last nine winners of The Open prepared for the major by playing in the Scottish Open the week before and Thomas is hoping to take advantage of a tried and tested formula.
The 26-year-old from Kentucky claimed his maiden major at the 2017 US PGA Championship at Quail Hollow but he has missed the cut on two of his three appearances at The Open.
Thomas hopes playing the Scottish Open the week before Royal Portrush will improve his chances of a tilt at the Claret Jug.
He said: "I didn't know the exact numbers but I knew that there had been a handful of years where guys had won The Open after playing the Scottish Open.
"I'm hoping to try to get some of those vibes.
"I'm excited.
"I was trying to figure out a little bit of different way to go about The Open championship.
"It is a tournament I love and I love links golf but I just haven't played very well the past three years.
"I figured there wasn't a better way to do it than at least go over there and get acclimatised.
"Obviously in Scotland versus Ireland, it's not exactly the same golf courses, but at least I'll be over there and have an opportunity to maybe play some difference places if I want.
"The Scottish Open has the history it has for a reason and a lot of great players will play the week before The Open so I think it will be a good test."
Thomas was forced to miss the US PGA Championship with a wrist injury but is hopeful he will be back in action at next month's US Open at Pebble Beach.
He said: "I was very, very smart with (the injury) and I just didn't want to push it.
"I know how important wrists are, especially in golf.
"I feel like a lot of guys will try to come back early from an injury and force it, especially to play in a big tournament like the PGA or in a tournament they may love.
"But I missed tournaments that were really good golf courses for me and felt like I had great chances to win.
"It was pretty hard having to stay home and not play, but it was the right decision and in the long term, if I go on and win some tournaments or win a couple majors in the rest of the year, nobody will even remember that I missed some. That's the hope and that's the goal."
Meanwhile, Thomas is not surprised that some of golf's top players threatened to boycott the US Open following a series of fiascos.
It has emerged this week that Rory McIlroy and Dustin Johnson were among a group of 10 to 15 players who held discussions over a possible player boycott following the controversial 2016 US Open at Oakmont.
The USGA were heavily criticised after the major when winner Dustin Johnson received a one-shot penalty after the event was over, having been forced to play the majority of his final round in limbo for a possible infringement on the fifth green.
The course set-up at Chambers Bay four years ago and at Shinnecock Hills last year was also lambasted by the players.
Thomas said: "I think there were talks very briefly but that was pretty early in my career when I definitely did not feel comfortable having a voice of opinion on that.
"I think over the last couple years, it's been good for the game because guys are becoming a little bit more out spoken and honest.
"But we never want to come off as complaining or bratty, if you will.
"But at the end of the day, this is what we do and we want to make sure it's as good as possible and fair.
"I'm sure you understand that sometimes it's hard for everybody else and other people to understand it.
"I think we're getting to the point now where if stuff gets out of control, we don't feel like we have to hold back anymore.  We can say how we feel."
The USGA will know they can ill afford a repeat of any problems when the US Open takes place at Pebble Beach next month.
Thomas added: "It's pretty obvious on where I stand with the US Open and the USGA.
"We've had our difficulties over, the last six months or whatever it is but my frustration with them and the set-up of the US Open is just how the PGA Tour does such a great job in setting up the golf tournaments the entire year and we feel like the US Open gets away from us or gets out of hand almost every year.
"We play these amazing golf courses like Shinnecock or Oakmont or Merion and the golf courses don't need tricked up.  They don't need to be set up any harder than they already are."