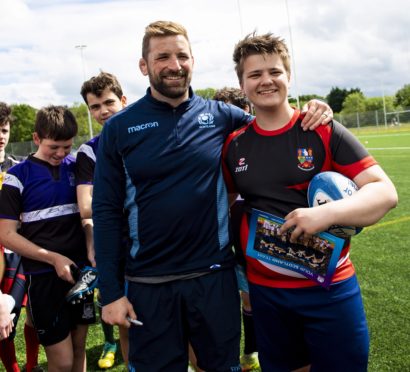 The pain of omission from Scotland's last Rugby World Cup squad has made John Barclay doubly determined to secure his place on the plane to Japan this year.
Flanker Barclay ended a near three-year international exile when he was named in previous head coach Vern Cotter's 46-man training squad for the 2015 World Cup in England, only to miss out to John Hardie in making the final squad.
Having made a full return under Gregor Townsend, Edinburgh's Barclay is among the most experienced members of the provisional 42-man squad and is one of the frontrunners to be handed the captaincy.
After admitting he struggled to watch the World Cup four years ago, in which Scotland controversially lost out to Australia in the quarter-finals, Barclay insists he has fresh impetus in what he expects to be his final chance to play in the tournament.
The 32-year-old said: "I said openly it was the single biggest disappointment of my career to not go – to put in all the work and not get picked.
"Someone then got injured, and I still didn't get picked.
"I didn't really enjoy, or watch the World Cup. I found it really frustrating individually.
"It's definitely a driver for me.
"In 2007 I went to France but I didn't really have any idea about international rugby. I didn't really appreciate the situation I was in.
"In 2011 I went to New Zealand as a starter, knowing I was going to go.
"Last time I was on the outskirts, so it would be nice to go realising it would be my last one. It would be a pretty special way to go."
Barclay insists he did not contemplate turning his back on the national team following his snub by Cotter, adding: "I always thought it was a bit funny, if you don't get picked then you retire. You're not picked anyway, nobody is going to be bothered.
"I felt the camp had gone well, and I had played really well in the warm-up games.
"That added to the frustration, but equally I was always aware I didn't want to be petulant. Throughout the time I wasn't picked I didn't throw the toys out, I just kept my head down.
"Six months later I was back for the Six Nations and another 12 months later I was captain.
"It's something I actually speak to younger guys about, just how quickly cycles change. One minute you are flavour of the month, the next minute you are not.
"It's just about taking a step back and actually looking at the situation, and realising things change very fast."
Barclay missed this year's Six Nations with a ruptured achilles which caused him to miss 10 months of action, however after returning to make his long-awaited Edinburgh debut in March the former Scarlets player is in buoyant mood.
He added: "I was hoping originally to get back for the Six Nations, but I didn't realise how quickly it became apparent I was up to seven months out and I wasn't going to make it.
"It was good to get a little bit of rugby at the tail end of the season.
"It gives me confidence to know the body is all right and the achilles is going to hold up.
"It was important for me to just get a few games in, probably mentally as much as physically.
"To put in nine or 10 months and actually have a carrot at the end of it and play a few games."