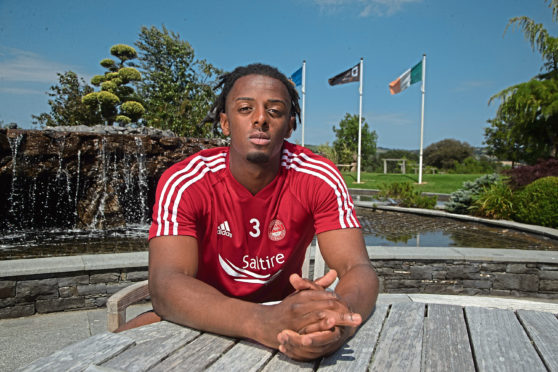 Greg Leigh's decision to try something new in a different country may not have worked out how he wanted but the Englishman believes his Dutch experience has proved an invaluable learning experience.
The left-back, a product of Manchester City's youth academy, became Aberdeen's sixth signing of the summer earlier this week after leaving NAC Breda in the Netherlands following their relegation from the Dutch top flight.
His time in the Netherlands can best be described as a mixed bag and while disappointed it was not the success he had hoped for, he insists he has become a better player for it.
He said: "Holland didn't work out the way I hoped but it was definitely not a mistake.
"I learned a lot about myself as a person because you have to grow up quickly when you move abroad and I also learned a lot about football and other cultures.
"It was an interesting experience. The Dutch league is similar to the top end of League One when you take the top teams out of it.
"But the big difference is everyone tries to play football, whereas in England you get teams who will lump the ball. Over there, even the teams at the bottom end of the table are all about possession.
"That was a good thing because I could cope with the physical side of the game in England but I needed to improve the technical aspect of it.
"That's what I have been trying to do over the last year.
"As a player I think I am better for it, I didn't get the results I wanted, but I think it has been good for me."
The 24-year-old's on-pitch experience may have been indifferent but he believes the lessons learned off it, specifically in how he could look after himself better and get the most of out of his body during matches, have prepared him well for a new challenge in Scottish football with the Dons.
He said: "On the sports science, nutrition and analysis side I really benefited too. I have been shown the right way to do things, such as when to eat and what to eat to get the best out of my body.
"Small things like eating the right carbs at the right time, it was an education. I didn't play against Ajax but I did play against Feyenoord, which was a great experience.
"Playing in those big arenas is good for you because of the atmosphere.
"That will help me this season when we play the big games against Celtic and Rangers. You have to be able to handle the pressure and ultimately I think pressure brings the best out in you.
"You see the big games bringing the best out of the big players."
Leigh's arrival at Pittodrie could have happened much earlier than it did with the defender close to agreeing a move to Aberdeen last summer and again in January, but Derek McInnes' third attempt to lure him to Pittodrie has paid off and the new arrival is looking forward to his new challenge – and the prospect of playing European football.
He said: "I knew about the club's interest last summer and then again in January, when I was really keen to come but it didn't happen.
"So it's good to finally be here, this was an attractive club to join and I'm just eager to get going now.
"I am looking forward to the European games, that was an attraction."