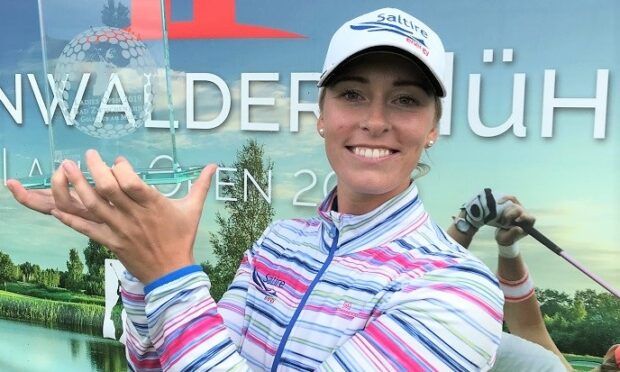 Alford's Laura Murray has boosted her chances of graduating to the Ladies European Tour next season with victory at the Rugenwalder Muhle Ladies Open in Germany.
The 31-year-old enjoyed a wire-to-wire success to record her second LET Access Series title after finishing on 14 under at Golf Club am Meet in Bad Zwischenahm.
Murray, who is attached to Kippie Lodge Sports and Country Club in Aberdeen, has moved up to fourth in the LET Access Series rankings with only one event to go. The top five players will earn playing rights on the Ladies European Tour for the 2020 season.
An opening round of eight-under-par 64 propelled Murray into a two-stroke lead ahead of German Luisa Dittrich, who shot on 66.
Murray followed up with a 68 on day two to take a five-shot lead into the final round of the 54-hole event with a two-under 70 enough to claim the title by two strokes, ahead of France's Marie Fourquier.
The north-east player, who had recorded four consecutive top-10 finishes ahead of the event, said a change of putter helped her to victory.
She said: "I put this other putter in my bag. It's been sitting in my apartment for like three years and I just thought why not let's chuck it in.
"Sometimes just changing something can get a different feeling and it certainly helped this week so I think that will be staying in the bag.
"The win feels incredible.
"I've been working really hard for this all season and I feel I've been knocking on the door recently and nice to finally cross the line and get the job done.
"I think my attitude on the course was pretty good. I just kept telling myself to keep smiling and just concentrated on what I was doing and holed a few putts and that kept me smiling a bit more.
"I've been playing so solid it was quite a nice relaxing week for me. And my attitude certainly helped me through it."
Thank you so much for an awesome week @LETAccess Rügenwalder Mühle Ladies Open ?? A huge thank you to my sponsors Saltire Energy, @kippielodge @WilsonGolfUK @CatmandooUk for your support! #keepsmiling #2019goals #SundayFunday pic.twitter.com/3hpEVWu0UR

— ????? ?????? ♡ (@lauramurraygolf) September 29, 2019
Murray hopes to keep the momentum going in next week's Road to La Largue Final which starts in Mooslargue, France on Friday.
Murray added: "I'm going to approach it in the same way because it worked so well this week.
"Now I know I'm in fourth position there's a good chance of securing that top five in the order of merit.
"I'm looking forward to see what we can do next and to see what the course is going to offer. I'm sure it's going to be a lot of fun."