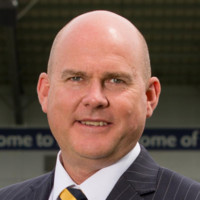 A Zimbabwean, with strong connections to Wick and the Borders, has been appointed the new chief executive of Cricket Scotland.
Former player Gus Mackay will take up his new role on October 21, following in the footsteps of the recently-departed Malcolm Cannon.
Mackay has held senior roles with various sports businesses and governing bodies, including managing director at Worcester Warriors, chief executive at London Broncos and the same role for Sussex CCC during the last 17 years.
Prior to that, he played cricket professionally in Zimbabwe and in the UK, winning three ODI caps for the African nation in 2001 against Australia and New Zealand.
He was born and brought up in Zimbabwe, but has proud Scottish roots
with his grandparents hailing from Wick and Duns, and he has expressed excitement at the challenges which face him in the future.
He said: "This is an exciting time for the game in Scotland and I am delighted to have been appointed chief executive. I have been impressed with the clear vision,
strategy and, more importantly, commitment of the Board to achieve Full Member Status of the International Cricket Council.
"This will help us achieve our vision to make cricket mainstream in Scotland and thereby ensure the long-term sustainability of the game here.
"Cricket in Scotland is progressing in the right direction for both the men's and women's game, as demonstrated by the ICC rankings, while Scotland is regarded as one of the top Associate Countries. These are exciting times for everyone involved in the game in Scotland and I am really looking forward to getting started!"
Tony Brian, chairman of the governing body, said: "It is great we have attracted
someone of Gus's calibre and experience to join us.
"He has wide experience of leading all aspects of sports from growing participation numbers and supporting clubs to running professional teams at a high level.
"We are currently finalising an ambitious strategy which aims to make cricket one of the mainstream sports in Scotland over the next ten years, with a wide increase in participation and us becoming ICC Full Members within the next five."